The Summer Cave at Grotta Palazzese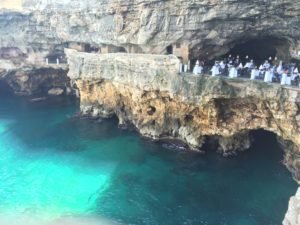 You may have seen the photos floating around the internet. Images of a two tiered restaurant with white table cloth clad tables, wood floors and simple lighting. All of this tucked into a cave that dangles over a bright blue sea. These images have been shared by just about every popular travel publication and the accompanying caption reads "Is this the most romantic restaurant in the world?" We had a chance to dine at The Summer Cave at Grotta Palazzese and here is what we experienced:
Location:

The Summer Cave at Grotta Palazzese is one of two restaurants inside the boutique hotel Grotta Palazzese which is located in the absolutely charming seaside town of Polignano a Mare in the Southern Italy region of Puglia. Polignano a Mare is about a 45 minute drive from the main town of Bari. You can also get there by train/shuttle from Bari and Brindisi.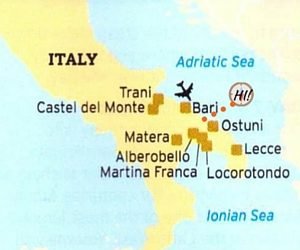 Tip: You enter through the hotel, which can be tricky to find. Once you park, you will see directional signs on the sides of buildings that take you to the hotel.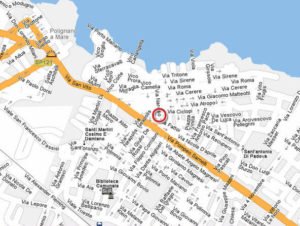 When to go:

The Summer Cave at Grotta Palazzese  is open from Easter to October. Their website says that they are open from 11:00 a.m. to 11:00 p.m. We went at 12:30 p.m. and it was clear that we were their first seating. Literally the first people to walk through the door. They give you a 90 minute window to wine and dine. For two people, that was plenty.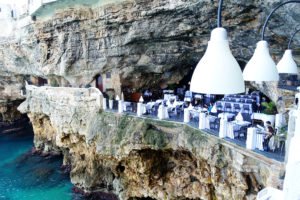 Fortunately, our early arrival meant that we could choose any table we wanted. We chose one right by the edge. It was a beautiful sunny afternoon and we were able to soak in the views of the Adriatic Sea and the sounds of the water gently lapping up against the cave.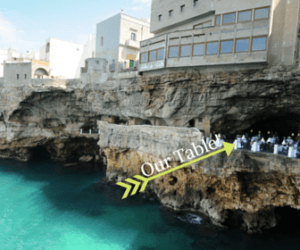 Tip: When deciding what time you want to dine, think about what you're looking for. The cave is nicely lit during the day and you can see out over the Adriatic. In the evenings, the cave is dimly lit. You won't be able to see as much, but I am sure it is equally as beautiful.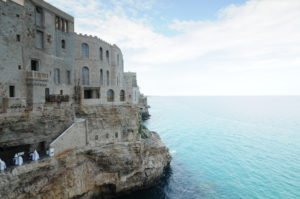 Tip: Select an earlier reservation for either lunch or dinner, so you have a better chance at selecting the table you want. Arrive 15 minutes before your reservation time.
What to Wear:

The Summer Cave at Grotta Palazzese is considered "upscale". Here is the dress code info they provided in our email correspondence:
Dress code for males: no shorts, jeans or sandals; semi-formal required.
Dress code for females: smart/semiformal.

However, there was a gentleman sitting next to us in shorts. I was made aware of this by my husband who, begrudgingly, had to change into pants in the car because I had forgotten to tell him about the "no shorts" rule.
I wore a nice flowy Maxi dress and my husband wore casual slacks and a polo, both of which were  perfectly acceptable.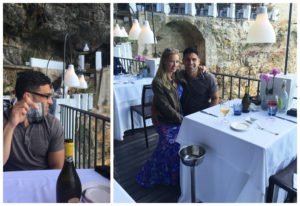 Tip: We were there in May. Being in a cave and right on the water it was just a little bit chilly, so bring a light sweater.
The Food:

The Summer Cave at Grotta Palazzese is a Mediterranean/Italian/seafood restaurant. There are two ways you can order: You can order a minimum of three items from the à la carte menu or, you can order a four or six course meal from the pre-fix menu. If you choose the latter, the entire table must order that way. Here are both menus:
They make it clear that you must order as explained above. However, we saw several people just order one item from the à la carte menu.
Fortunately, I did a bit of research before our experience here, so I had an idea of what we were going into. I saw quite a few reviews that stated the food was "bad" or even "horrible". I didn't think it was bad at all. However, I didn't think it was great nor did it justify the price. When we started the meal we both commented "Oh, it's good." With a head tilt and that high pitch voice that comes with surprise that it wasn't terrible.
The wine list is pretty good and they also had a couple of interesting bottled beers to choose from.
The Service:

Again, I am glad that I did some research ahead of time. Along with the chatter about the food, there were quite a lot of complaints about the service. The most common description I read was that the servers were rude. I didn't feel like they were rude, but they were cold and curt. No smiles, no pleasantries, just the bare minimum of seating you, taking your order and bringing it to you. Not at all what you would expect from the caliber of restaurant that The Summer Cave at Grotta Palazzese portrays itself to be.
Tip: Don't take the curtness personally.
Cost:

Pricey! I am all for paying a little extra for unique, enjoyable experiences (especially when it comes to food and wine), but it has to be worth it. If we would have walked away from pleasant, welcoming service and great food, it wouldn't have seemed so pricey. With that setting, we probably would have thought it was a steal!
The four course menu starts at 100 Euros ($110) p/p.
The six course menu starts at 120 Euros ($133) p/p and there is another for 150 Euros ($160) p/p.
The à la carte menu has items that range from 32 Euros ($35) to 58 Euros ($64). So, having to order a minimum of three items, you are no better off.
My husband had a beer and I had a glass of rosé. I can't remember the exact pricing, but it was much higher than average. Especially for that area.
The Cave:

The cave is beautiful! As mentioned above, the décor is very simple, which allows the historic grotta be the star of the show. It is dimly lit by lamps and the rest is filled by natural light. There are two levels for seating. The much larger bottom floor is where you enter and is the main floor of the cave.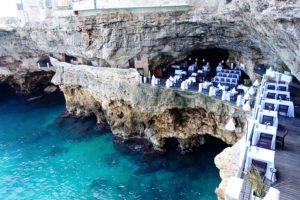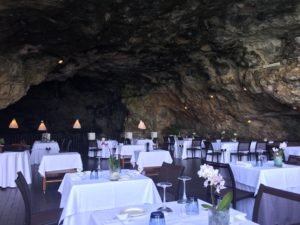 What you can't see in a lot of the photographs of the cave you might find online is that the back of the cave opens up to a deeper, water filled cave.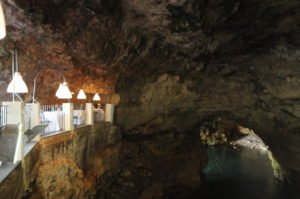 The upstairs has a much smaller seating area and a small bar. It really is lovely and incredibly unique. It has quite the history too, as it has been used for banquets since as early as the 1700's.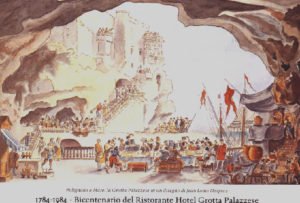 Is this the most romantic restaurant in the world?

So, back to that unanswered question that seems to accompany every photo of this restaurant. For me, there are too many key elements missing for The Summer Cave at Grotta Palazzese to be able to hold such a grand recognition. This rings especially true being that it is located in a country that oozes romance and prides itself on its unforgettable cuisine. It is absolutely a beautiful and unique setting, but it ends there. On this trip alone, we had several dining experiences that were far more romantic, like at Belvedere in Ravello or Michelin-starred La Sponda in Positano. Neither are set in a cave, but they certainly aren't lacking in views, food, ambiance and service. And, at both, I thought to myself "this is so romantic".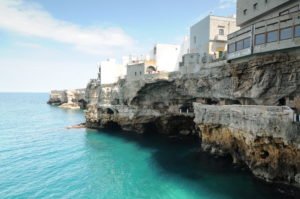 Now, I am not trying to be a "Debbie Downer". I want you to be prepared. Here's why: if this is something you are remotely interested in seeing. GO. It is lovely. Just go with your expectations in check. If you go in knowing what you'll get, you will be able to enjoy the uniqueness of the setting. And, the town of Polignano a Mare is definitely worth a visit.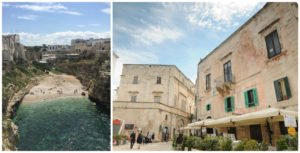 A few bits of additional info:
Reservations – I found The Summer Cave at Grotta Palazzese to be very responsive and easy to communicate with via email. They do require a credit card to hold your reservation.
Parking – The hotel does not have its own parking. They will send you a map to show you where the nearest paid parking lot. We were able to find parking on the street, though it was challenging to interpret the various parking signs (and the translation that Google Translate provided was indicative of the limits of that technology at this time). We found a car leaving a space and hoped for the best.
Photographs – The staff at The Summer Cave at Grotta Palazzese are fine with you walking around to take photographs. I found that the best vantage point, to take a photo of the entire grotto, was from the tiny window in the ladies room.
Leave yourself a couple of hours to explore Polignano a Mare. Maybe more if you want to relax on the beach.