Awww….Italy. What can I say? It's just perfect. This trip was 9 years to the month from our first trip to Italy (and my second time to Europe). Not only did it give me so many more reasons to love Italy, but it gave me lots of reminders of why I fell in love with it in the first place.
We booked this trip a year in advance. We had always talked about returning to Italy, but never made any real plans to do so. And then, as if sent from the international business class heavens, British Airways had an irresistible Club World sale. So that, paired with a few glasses of wine, led to the booking of two round trip tickets to Ital…nope, Zurich. The sale was to Zurich and that was close enough to Italy.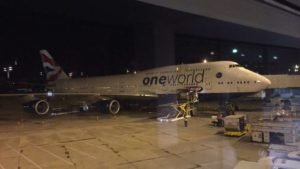 As the Amalfi coast was a major influencer in this trip, we planned everything around going there. We settled on those days, added Florence and Tuscany, and still had a few days left. I did a little research, specifically on off-the-beaten path places in Italy, and there was one region that came up quite often: Puglia. Just wait until I tell you about amazing Puglia.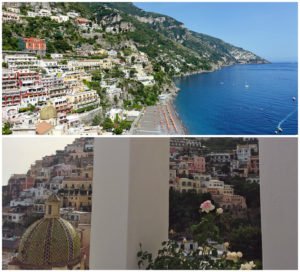 Positano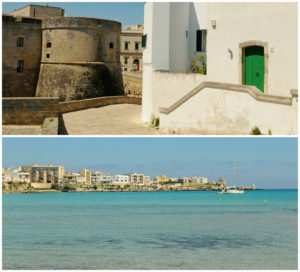 Otranto in the Puglia region
Maybe it was because this was our second time to the country, but I seemed to be hyperaware of and in tune with everything. Hopefully, these observations will assist you in planning your trip to Italy. Once you've gone, it's easy to see why people keep returning to Italy. It's a pretty special place. Here's why:
The people
Italians are warm. When an Italian asked me how I was enjoying Italy, I commented how much I enjoyed the people.  Her response was "yes, we are a sunny people." That pretty much sums it up!
Italians really do talk with their hands. A lot. It's great.
Italians really do say "Mama Mia!" It's also great.
Italian cities, like most cities in Europe, come alive at night. People dine out and they gather in the main squares, or piazzas as they're called in Italy, and lounge with a bottle of wine. It's beautiful. I highly recommend you take part in it.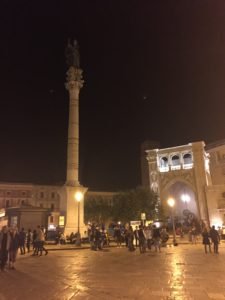 Evenings in a Piazza
Italians are very conversational. Talk to them. It will be pleasant and often funny and you will learn so much!
The food and wine (Oh. My. Goodness.)
The food is so fresh. All of it. In fact, that is how we Americans justify (to ourselves) how Italians can eat all of that goodness and not be 1200 lbs. That goodness just doesn't have the preservatives.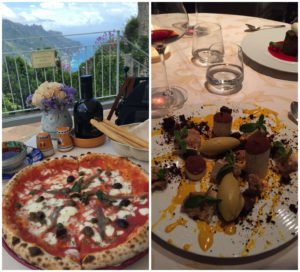 Deliciousness!
The local cuisine is heavily influenced by what grows in the area. Meals are prepared based on locally available sources and are very specific to each region. Even down to the type of pasta used. Naturally, areas near the sea use a lot of seafood and areas farther away use a lot of meat.
Reservations for dinner are always a good idea. Also, keep in mind that many restaurants close after lunch time, for siestas, and don't open again until the evening.
There is SO MUCH wine. And, so many wine regions. It's a beautiful thing. From the Primitivos grown in the south, to the Chianti Classicos and Brunellos in the middle, to the beautiful, dry whites from Piedmont in the north. It was hard to find a bad wine.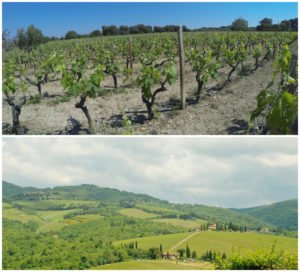 Top: Primitivo in Pulia Bottom: Chianti Classico in Chianti
The sights
I remember our first trip to Italy, and Rome in particular, and being amazed at how ruins are around every corner. Everywhere. Unfortunately, they have also been graffitied. Nonetheless, it is an amazing thing to walk through so much history no matter what direction you are heading.
Italian towns are literally built on top of each other. There are ruins on top of ruins. My favorite sight in Rome is the Basilica San Clemente, which is a 12th century church, built on top of a 4th century church, built on top of a pagan temple. In Lecce, the main square is discretely dominated by excavated ruins. Oh, and this is the spot where the locals gather to socialize.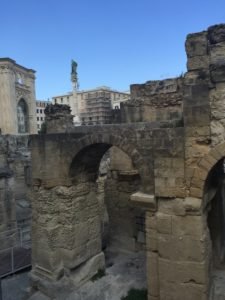 Ruins in a Piazza
I can't recall any other place I have been where simply turning a corner can force a "wow" right out of me. It was the Pantheon in Rome, the Duomo in Florence and the Duomo in Siena that got me. You really don't see them as you approach them (maybe because you're buried in turn-by-turn directions), but after you make that final turn and your eyes see them, they will take your breath away. And the "wow" that leaves your mouth is completely involuntary.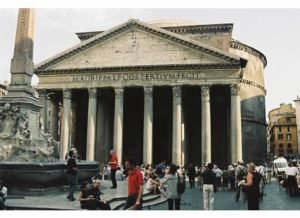 The Pantheon (from 2007)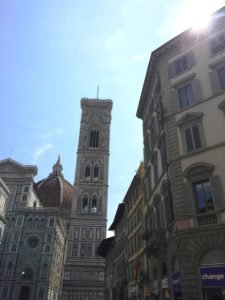 The spectacular Duomo in Florence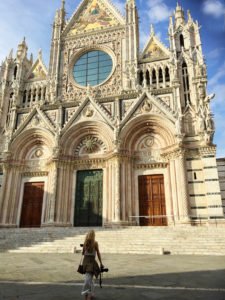 Siena's Duomo
Some of the most important arts, ruins, history, cathedrals and architecture is in Italy and it is abundant. Take the time to see these things. I recommend making sure that you follow any dress codes and purchasing tickets in advance. Many museums and sites now have timed entries to reduce crowds. If you plan on seeing many sights in one city, you may want to purchase some sort of city pass that will grant entry to many of these places and will usually offer some other benefits, such as a designated entry that often has a line of people much shorter than the general admission entry. You can find information on all of these by visiting that sight's website or speaking with your hotel's concierge. Particularly during busy season when getting a reservation for a museum or cathedral at your preferred time may be more challenging, you will be well served to figure out the sites you want to visit and make reservations well in advance and coordinate visiting sites that are near each other.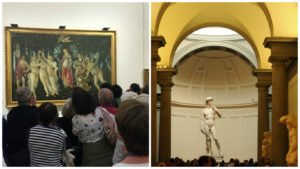 Botticelli's Primavera and Michelangelo's David
The diversity of the regions
We have an agreement that we will see as many countries as possible even though we are tempted to just return to most of them. Italy will be an exception, in large part because of its diversity. In the far south, in the heel of the boot, is the Puglia region with whitewashed buildings and a crystal clear blue sea. The Amalfi coast is a lush, mountainous tropical paradise. And then there are the cities of Rome, Florence and Milan. The rolling hillsides of Tuscany and Umbria and the many lakes and mountains of the north. We will go back because there is still so much to see.
The Italian rail system, Trenitalia, is excellent and makes it very easy to get around.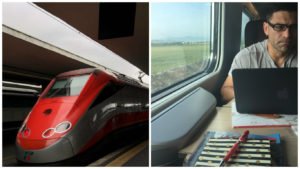 The high speed train
When to go
We went in May. It was an excellent time to go as the crowds were minimal. We hardly had any lines (except for the Duomo in Florence), we could take tons of photos without having someone walk right in front of us and we could set the timer on the camera (vintage selfie) without worrying someone snagging it. Dinner and museum reservations were no problem. The only problem we had was that the weather wasn't so great. Though, from what we heard from the locals, the weather we experienced was an anomaly.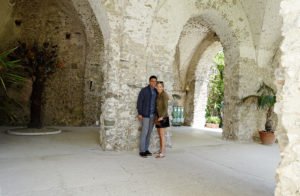 The place to ourselves!
                                                                        Positano Rain
July and August are the busiest, warmest and priciest months. Keep in mind that most Europeans travel for the month, yep the MONTH, of August. Because Italy is so diverse, there are some seasons that are great for some areas and not so great for others. Do your research. Naturally, the beach areas are best in the spring/summer. If you want to truffle hunt, that is best done in the fall. It really depends on what you're expectations are of this beautiful country.
I hope this gives you a solid overview and helps you in planning your trip. In my opinion, Italy is a perfect compilation of everything you would want on vacation. And, travelling within the country is easy.  Lastly, if you are ready to take your first trip to Europe and haven't decided on a country, I think Italy is a perfect place for Euro virgins.