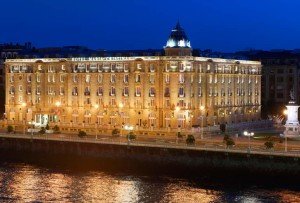 Image Courtesy of Starwood Hotels
Hotel Maria Christina made a solid first impression on us before we even left San Diego. About a week before we left, the hotel's concierge sent us an email asking if they could make us dinner reservations for our stay. Why, yes you may Hotel Maria Cristina! With a combined total of 16 Michelin stars, the city of San Sebastián, in the Basque region of Spain, is "foody heaven". We responded and asked for reservations to be made for four of our five nights there. When we woke up the next morning, we had an email confirming our reservations at four great restaurants.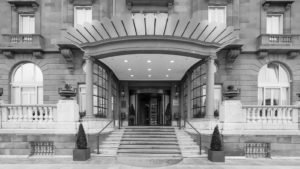 Photo courtesy of Hotel Maria Cristina
A week later, we arrived on the steps of this century old beauty. The grandiose façade is a striking standout, but seems to fit perfectly on the outskirts of Old Town and within the "beach glam" vibe of San Sebastián. Spectacular yet unpretentious, inside and out, it is no wonder it's a favorite among world explorers, celebrities and locals alike.
The hotel is perfectly positioned for exploring San Sebastián. It sits right on the Urumea river and is a short walk to the pintxos and sights of Old Town and La Playa de Zurriola and a short bike (provided by the hotel) ride away from the famous La Concha beach.
The hotel entrance draws you in with its old world beauty and that wow factor intensifies as you make your way to the lobby area. It's just stunning. I think I took a photo every time I walked through the doors.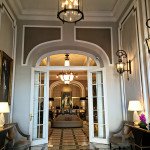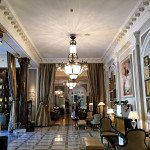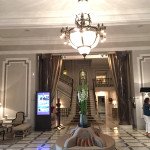 When we arrived in our room, there was a plate of local cheeses and a bottle of wine. Our room was beautiful with warm grey tones and pops of color throughout. The room was also huge. Not just by European standards, but by any standards, which made it really nice to spread out for our five nights there. We had a great view and the bed was so comfortable, but my favorite part of our room was the décor of the bathroom and the lighted mirror (swoon…).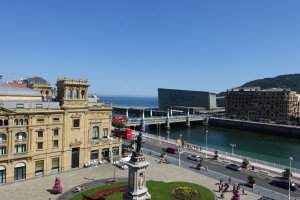 What a view!
As beautiful as the hotel is, the concierge team is what really made our experience great. Not only by reaching out before we arrived and assisting us with our departing flights, but by helping us out with one of our bags that decided it would like to visit Italy instead.
Somehow (U.S. Airways) Eddie's luggage ended up in Rome. We were able to pick up a few things for him to wear, but really didn't want to spend our time shopping or trying to locate luggage. The hotel was AMAZING at taking care of this for us. Faviola, at the concierge desk, stayed on the airline, while we enjoyed the city, and had our bag back to us within 48 hours.
In the meantime, Eddie threw on his Euro swim trunks and we took the hotel's beach cruisers for a spin around San Sebastián. We wanted to go to La Concha beach, so the hotel sent us off with drinking water, beach towels and bike locks. The bikes were a perfect way to see the city.
We didn't get a chance to dine at the hotel's restaurant, though we've heard it's very good. We did pop into "Dry", the glamorous martini bar, and it was a fabulous continuation of the "wow" factor from the lobby. In the evenings, our pre-dinner routine quickly became one that included enjoying the beautiful veranda with a glass of local wine.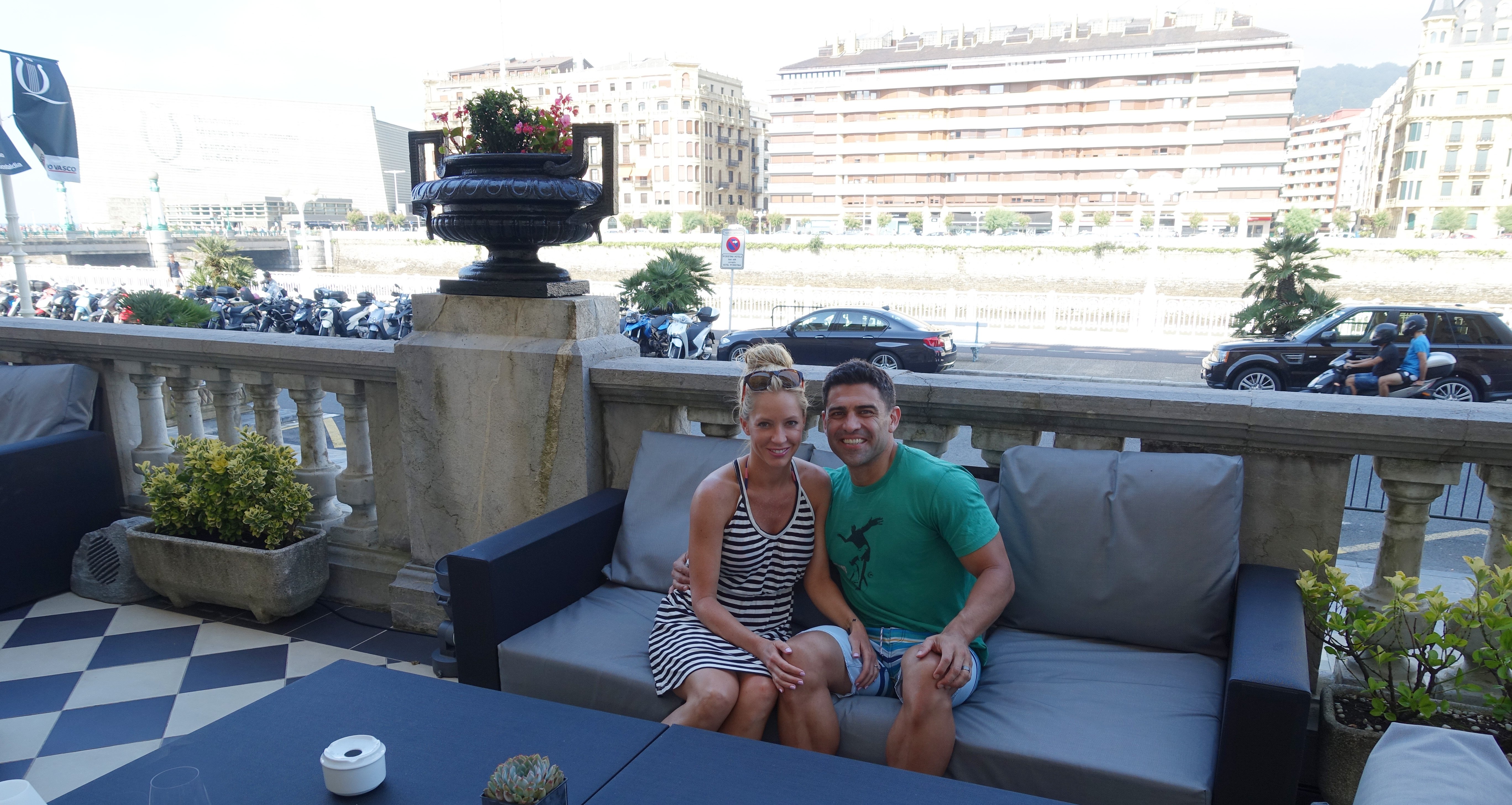 The lovely veranda
I love hotels that are so well done and so true to the area that they make you feel like you belong there; they make you feel good. The Hotel Maria Cristina is just that. It is so deeply rooted in the glamour and luxury that it was built on, that it makes you feel like you have stepped right into the golden era of the 20's. And really, all of San Sebastián felt that way; like we had stepped back into the Belle Époque. Everything just fit and when you find a harmony between place and setting, like that, you simply fall in love.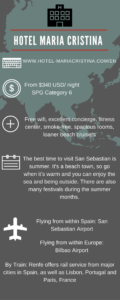 Click to access infograph hyperlinks: Hotel Maria Cristina infograph


Maria Cristina is one of 105 (and counting) properties that make up The Luxury Collection, which is a group of high end hotels located all over the world and part of the Starwood Hotels and Resorts group. So, if you're an SPG member, this beautiful hotel is available for you to spend your points on.

Have a Gin & Tonic or a glass of the local wine on the veranda. Do it.

Check out the hotel's gourmet shop and inquire about cooking or wine classes.

Use the concierge team. They are top notch.

The hotel will set you up with beach cruisers, which is a great and easy way to explore the city! You can check them out for four hours at a time and I recommend reserving them in advance

.

San Sebastián has a mild, seasonal climate. The average highs only get to around the mid 70's, but it still feels nice and warm on a sunny summer day. The evenings are a bit chilly, so bring a jacket

The sea is beautiful and… "refreshing". Okay, chilly, but it's nice for a dip!

Are you American? Yes? Read this bullet. No? Feel free to skip this one. — Hello, my fellow American. You know you're in Europe, right? Well, that means the beaches are naked (gasp!). It's okay. In fact, I think it's something you'll adapt to seeing quite quickly. However, if you need to work your way into it, we found that La Concha beach was a little less naked than La Playa de Zurriola.

Click here for current Hotel Maria Cristina specials.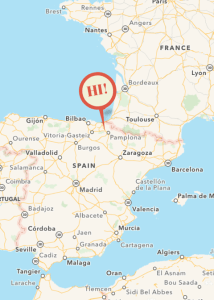 Map of northern Spain