The first stories I heard about Florence were from my grandparents who had two, very different memories of this historic city. My granny, the museum addict, remembers seeing the David for the first time and all of the beautiful art the city holds and the romance of being able to see it in person. My grandfather remembers not being able to find parking and driving around in chaotic circles, while trying to avoid getting a ticket, so that my granny could swoon over those beautiful pieces.
Now that I've finally been, I think about their two differing memories and I can tell you that they both perfectly sum up Florence: It is a bustling city somewhat restricted in flow by its historic small streets, yet it is so beautifully romantic and particularly so for anyone who has even the slightest interest in art.
We spent three days right in the city center  and have a little bit of advice for anyone visiting for the first time.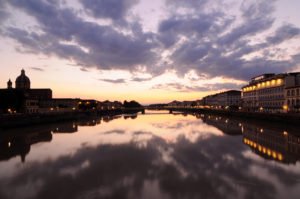 1.

 Don't Drive
"Don't drive." My Papa's exact words when I told him we were going to Florence. This was great advice! Florence's city center is small and walkable. There may be one or two sites that aren't walkable, but there are plenty of cabs that can get you to them. Driving and parking in Florence is more trouble than it's worth. Save your sanity.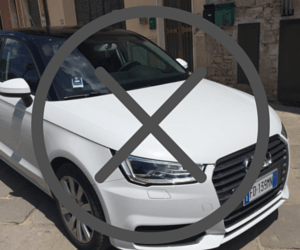 2. Go During the Shoulder Months
Florence is hot and crowded during the summer months. If you can, try to go during May or September. You'll have lovely weather, fewer crowds and better hotel rates.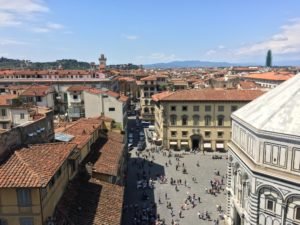 Small crowds at the Duomo in May
3. Get the Firenze Card
If you are going to be in Florence for at least a few days, and plan on visiting a lot of the museums and sites, you need the Firenze Card. Although it doesn't cover the Duomo, it covers other major sites like Academia and the Uffizi. The card costs 72 Euros ($79) and is valid for 72 hours from when you enter your first museum. Another great benefit is that you have priority access to each site, which is such a time (and feet) saver!

4. Make Timed Entry Reservations
If you aren't going to purchase the Firenze Card, book timed entry tickets for Academia and the Uffizi. It will cost an extra 4 Euros for each ticket, but is well worth it. For one, you are guaranteed to get in and, for two, you won't have to wait in line. We suggest reserving these tickets in advance. You can reserve them on each of their websites or here.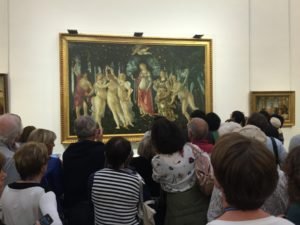 Botticelli's Primavera at the Uffizi
5. Bring Comfortable Walking Shoes
Between the cobble stone streets and marble museum floors, your feet (and back) can take a beating on a busy day of sightseeing. Invest in a pair of good walking shoes. I am not talking about white sneakers that you often see paired with khaki shorts and a fanny pack. Please don't. Comfortable shoes have really improved! Borne makes some (sometimes) stylish comfy shoes. But also some not so stylish ones. Do a little research; you may be surprised at what you find!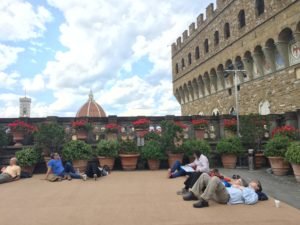 Worn out tourists on the Uffizi rooftop
6. Check Hours of Operation
A lot of museums are closed on Mondays. Be sure to check the hours of the museums you want to visit so you can plan around their closings. And, it's not just museums. Many restaurants are closed as well. I am not saying that the city completely shuts down; there are tons of other things to do and places to eat. Just be prepared for a quieter Monday.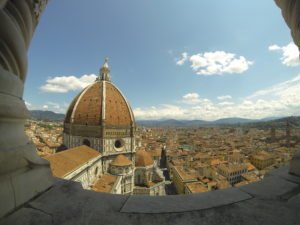 7. Know the Dress Code
Do as I say and not as I do? I made a pretty rookie mistake by not doing this. I assumed that dress codes were similar to cathedrals in other cities we had visited and had covered my shoulders and not my knees. I spent 20 minutes standing in line for the Cattedrale di Santa Maria del Fiore only to be turned away at the entrance. The family behind me in tank tops and jean shorts were able to enter, but it's better to be safe than sorry.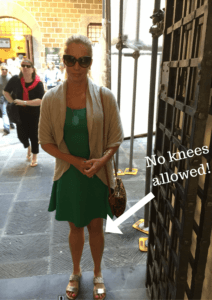 I wasn't allowed to enter a cathedral because of this outfit
8. Hire a Tour Guide
If you are really interested in a site, this is well worth it! And, it's often not that expensive. The tour guides outside of the Duomo were charging 20 Euros for a private tour. We have done this on several occasions and have always been glad that we did. For one, you skip the line. We did this at the Vatican many years ago and walked right by hundreds of people. For two, it's an incredibly efficient way to see a museum, landmark or other important site. You won't have to figure out where things are, play the buttons on your audio tour, read maps or try to figure out which room the exhibit you want to see was moved. We hired a guide in Pompeii, which is massive, and saw and learned plenty within 2 hours. For three, you will get so much more out of it. You can ask questions, request to see certain areas/pieces and you will always get more information than you would from a book or audio tour. Oh, and if you aren't dressed appropriately, they will often have something for you to cover up with.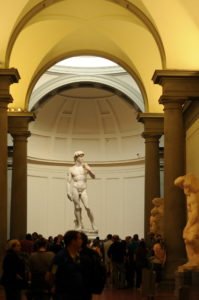 9. Shop for Leather
Florence is overflowing with beautiful leather products. You will find better bargains in the markets (watch out for fakes!), but you will find higher quality leather in the many boutiques.
10. Sunset Picnic at Piazzale Michelangelo
Pick up a bottle of chianti, prosciutto and some  pecorino from a local shop and head over to Piazzale Michelangelo for a sunset picnic. Here, you'll find some of the best views of the city and the Arno valley. If you're into photography, this is a great photo spot. Just get there early before all of the good spots are taken. Because it is outside the city center, this is one of the few places to which you may have to take a cab or bus, but it is so worth it!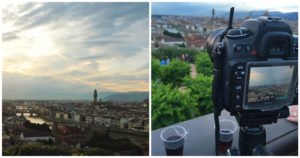 11. Eat Gelato
I mean obviously, right? But here's the thing: not all gelato is created equal and there are gelato shops everywhere! Here are a couple of tips on how to find the real deal:
Look at the colors. The good stuff has natural color tones and not bright, florescent tones.

If it's piled high in display cases, that likely means it is filled with air and other chemicals. Real gelato is displayed simply and is sometimes not displayed at all, but in covered tins.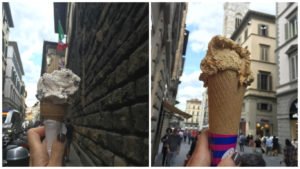 12. Get Lost
Seriously. But, in a responsible and safe way. Even the most devoted of art and history fans need a break. Get lost in Florence's charming side streets. If you enjoy photography, these side streets are a great place for street photography. And, you will be amazed at the sculptures and art that line Florence's streets and buildings.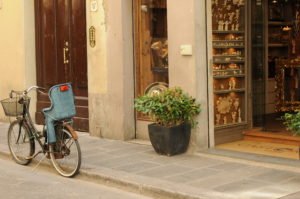 Florence Street Scenes
13. Download a Walking Tour
Rick Steves has walking tours for many major European cities, including Florence. You can find the app in the app store, download the tours you are interested in and you're set! We find this is a great way to familiarize ourselves with a city while learning a lot about it.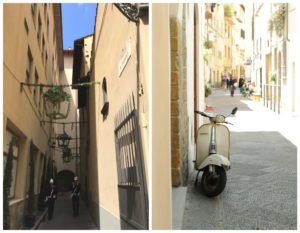 14. Research Restaurants in Advance
We did not do this and ended up struggling to find descent places to eat. Not that there aren't plenty of places to have a great meal. There are! There are also a lot of not so great, tourist trap places that can make finding great food more difficult. So, by doing a little bit of googling and Yelp perusing, you'll be able to avoid the tourist traps and come up with some delicious finds. If you are there during busy periods, making reservations a few days ahead is recommended. The good restaurants, even some of the larger ones, fill up quickly.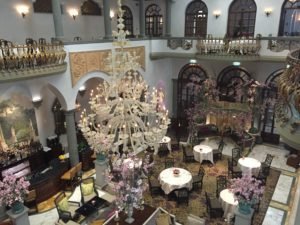 Winter Garden at the St. Regis is phenomenal
15. Take a Day Trip
There are some great trips, outside of the city, that can be conquered in a day! You can rent a car just for the day, take the bus or, you can join a tour and not have to worry about driving and finding your way around. Here are just a few things you can do:
Wine Tasting- First, let me say that, if you are interested in wine and/or beautiful rolling hills and you have the time, spend a few days in the Tuscan countryside. It's wonderful! If not, take a day trip to visit some wineries and enjoy the scenery. We toured with Azzurra Rosidini, with Viaggi d'Ambra and she was fantastic!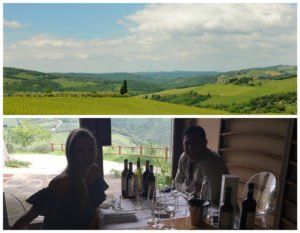 Visit Siena! It is a fantastic medieval town and a favorite among many. It's about an hour and fifteen minutes by bus from Florence to Siena.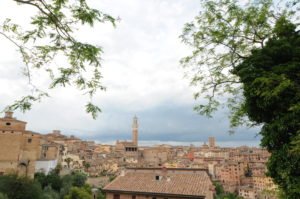 Go shopping! If you're into luxury brands like Prada, Fendi and Valentino, you are in for a treat! There is a luxury outlet mall called…wait for it…"The Mall". It's about a 40 minute drive from Florence. You can take the city bus to get there or, The Mall can arrange a shuttle to pick you up. Be sure to take your passport so you can collect your tax refund while there.
There is a reason the Reader's of Condé Nast Traveler  named Florence as the best city in the world in 2015. It is a wonderful city with so much to offer: art, history, music, delicious food, beautiful wines and warm people. Florence is a city that should be on everyone's "list".
You can view more photos of Florence here.