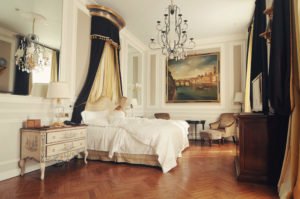 The St. Regis in Florence was another hotel I was really looking forward to on our trip through Italy. Not only because we have always had great experiences at St. Regis properties, but this one looked absolutely gorgeous in photos. As I have mentioned before, I love a hotel that is authentic. One that meshes with the city and the surroundings and with that, it becomes part of your entire experience. And, the St. Regis Florence is beautifully and unabashedly Florentine.
Our room came with a Butler, which is a St. Regis signature experience and has been for over one hundred years. Our Butler reached out to us about two weeks before our trip to see if there was anything that could be done to assist in our stay in Florence.

                                                                                                                                                                    Photo Courtesy of StRegis.com
We arrived from Naples by train at the Santa Maria Novella train station and walked (about 15 minutes) to the St. Regis.
The historic St. Regis Florence is Major Eye Candy
The St. Regis Florence was originally a 15th century palazzo. It was converted into a hotel in the late 1800's and most recently, in 2011, underwent a ten month, million dollar renovation. A renovation that left it grandiose from top to bottom and not a single detail was missed.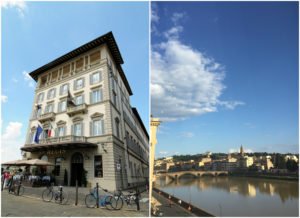 Walking in is an absolute visual treat. It is opulent yet elegant. From the concierge desk, to the library area to the reception, it was all dazzling but at the same time, warm and welcoming.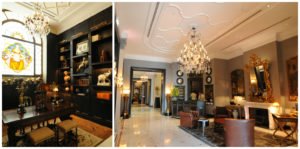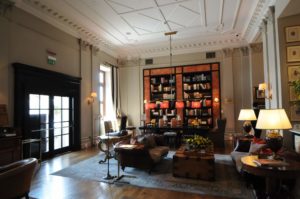 We were seated at a reception desk for the check in process and once we were checked in, we were given a brief tour and escorted to our room.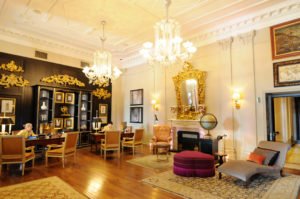 Our room was set towards the back of the hotel and getting there felt a bit like navigating a maze. There were so many nooks and crannies. I couldn't help but wonder what purpose each little area served when the building was a renaissance palace.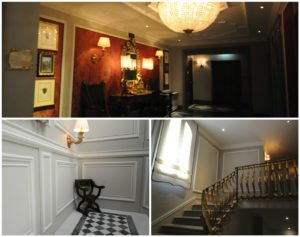 St. Regis Butler Service; A Ritual
Our Butler met us at our room, gave us a tour of the room and offered to unpack our bags. This is one of the primary services the Butler's provide along with packing your bags, daily coffee and tea service and garment pressing. But they offer much more. What's really great is that you can communicate with them on the messaging platform Whatsapp, so if you're out and about and need something, you can message them directly. We didn't take advantage of the packing/unpacking services, but we thoroughly enjoyed having espresso (with assorted cookies and biscotti) brought to the room in the afternoons while we recharged and put our feet up after a day of exploring, arting and historying.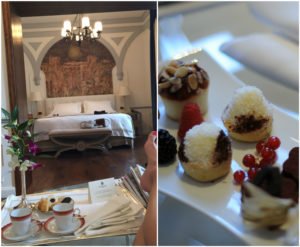 Rooms at St. Regis Florence
We experienced two rooms at the St. Regis (more on that later) and they were both gorgeous! There are three styles of rooms: Medici, Florentine and Renaissance. Our first room had a walk in entry way with beautiful wooden cabinets, a seating area with a couch, desk and flat screen T.V. and a separate bedroom area with a fantastic king size bed and white marble bathroom. The décor was lovely with muted grey tones and pops of color and shine. The walls were painted with reproductions of 16th century paintings.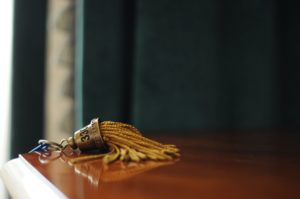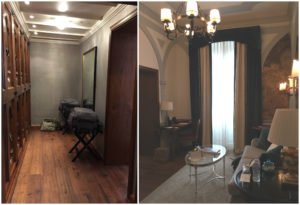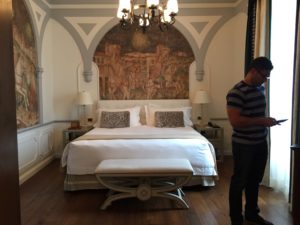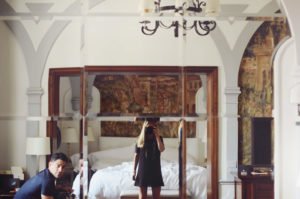 There were some issues with the air conditioning in the section of the hotel where our room was located and, as soon as another room became available, we were moved. Stefania handled the issue with genuine concern and professionalism. Every hotel should have a "Stefania".
Our second room was one of the most beautiful hotel rooms I have ever seen. It was a very large suite. It had an entire entry way that lead into a living area that lead into a bedroom. It was stunning. It was lustrous. It was sexy. This was, hands down, one of my favorite rooms ever and it was as comfortable as it was gorgeous, all of this making it incredibly difficult to leave.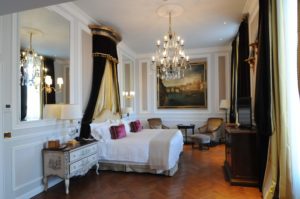 Just like our first room, this room had a sitting area with a couch, desk and flat screen T.V. The bedroom area was massive and the bed itself was gorgeous and seemed to be made for royalty.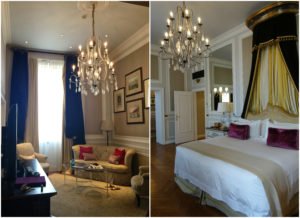 Off of the bedroom was a small balcony that looked out over the Arno River. There were two bathrooms. One in the bedroom and one in the hallway where you entered. Just like many St. Regis properties, both of our rooms had televisions embedded into the main bathroom mirrors.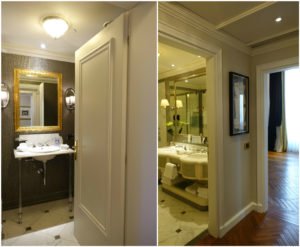 We were mesmerized upon our accidental discovery of this feature at the St. Regis New York a few years ago. Seriously (see here).
Winter Garden by Caino
We dined at the Michelin starred Winter Garden, located inside the St. Regis, on our first night. Before we get into the dining experience, the setting of Winter Garden deserves some attention. It's only fitting that a grandiose hotel has a grandiose restaurant. With stained glass ceilings over 90 feet high and gilted gold balconies all perfectly accented by a hand-blown Murano chandelier, Winter Garden is magical with a touch of whimsical.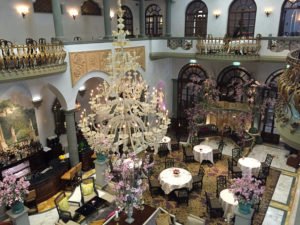 Everything about our dining experience was perfect. The service was flawless and the food was outstanding. The sommelier helped us pair Italian wines with each of our courses and he was spot on. I had a desert that was described to me as a "tiramisu explosion" and, oh my goodness, it was amazing! And, I don't really care for tiramisu.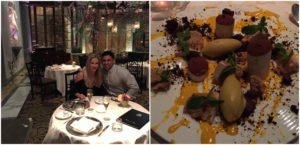 We had breakfast at the St. Regis two out of our three days there. Breakfast is served on the balcony that overlooks Winter Garden. It's a really pretty setting. The quality and selection of the food is first class. They had everything you could possibly want, including an omelet station and a Bloody Mary station. They also had fresh squeezed juices that were delicious.
Between the prime location, the beautiful interiors, spacious and comfortable rooms and the kind and attentive staff, we loved our three nights at the St. Regis in Florence and would not hesitate to stay there again. Needless to say, we highly recommend staying there on your trip to Florence. Just be warned: you won't want to leave.
You can find more on visiting Florence here.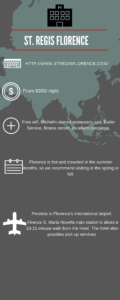 Explore the property and check out all of the nooks and crannies.

The concierge may be able to get you some of those last minute hot tickets, but we still recommend booking those in advance.

Take a look at some of the signature Rituals the St. Regis offers and try a few out to enhance your experience.

Have dinner at Winter Garden. If not, at least stop by for a cocktail.

Speaking of having a cocktail, try a Negroni or the St. Regis Florence signature Bloody Mary.

Check out the roof top patio at the Westin property that's right across the way.

The room keys are part of the ambience. They are large. Leave them with the concierge on your way out.

Walk across the street and watch the sunset over the Arno River.

The walk from the train station to the hotel was simple with one piece of luggage and one hand bag each. If you have more than that, consider a taxi.

Click here for current St. Regis Florence offers.