It's been a long time since I've been to the Caribbean side of Mexico. In fact, one of the last times I was there was for spring break. I won't tell you how long ago that was, but I'll tell you that I ended up on an old MTV show called "The Grind", hosted by two former New Kids on the Block members who were trying to kick off solo careers and that new guy on the music scene: Slim Shady. So, it's been a while.
As you may (or probably not) remember, we were allowed two trips within North America on our "Round the World" ticket. We originally had Denver scheduled, which although lovely, did not seem to be the best use of this golden ticket. So, we replaced it with Cancun.
As usual, I scoured the internet for the best area and hotels on the Riviera Maya, and kept I coming back to this one intriguing place: Banyan Tree Mayakoba.
Mayakoba
Banyan Tree Mayakoba is one of four resorts in the ultra-chic, eco-conscious resort complex called Mayakoba, located in the Riviera resort town of Playa Del Carmen, about thirty miles south of the Cancun airport.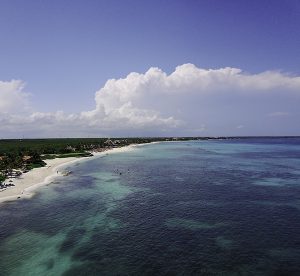 Mayakoba is like a small town itself, complete with a town square, or Pueblito. Great care went into preserving the land (flora and fauna) when designing and building Mayakoba. Trails and six miles of emerald lagoon weave through the four hotels. Aside from their suites on the beach, each of Banyan Tree's villas are nestled on the lush lagoon.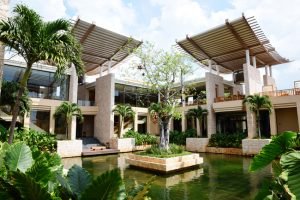 The Banyan Tree Resort
With 121 villas, Banyan Tree is a large resort, but it never felt crowded. The resort is spread out over a lot of land with multiple pool and lounging areas to choose from.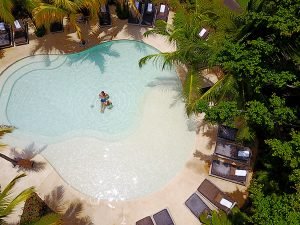 Each villa comes with two bikes to explore and get around the property as well as the entire Mayakoba grounds. If you're into golf, you can play the Greg Norman signature 18-hole El Camaleón golf course. Or, you could enjoy a day at Banyan Tree's award-winning spa. Guests have many activities to choose from or, they can do what we did and just lounge the entire stay. Despite what we had planned, aside from lunch and a champagne run into town on our first day, we never left the resort.
Coming in on a red eye, we arrived at Banyan Tree early. They got us checked in, escorted us to breakfast and by the time we were finished eating, our Serenity Pool Villa was ready.
Serenity Pool Villa
Banyan Tree is a Thai hotel group and they incorporate beautiful Thai elements in each of their properties all over the world. Each villa at Banyan Tree Mayakoba has its own large courtyard with a pool.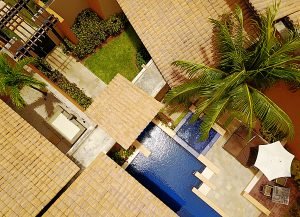 We stayed in the Serenity Pool Villa. Upon entering from the outside, you are greeted by the courtyard, infinity pool, hot tub and multiple seating areas. Just beyond the pool, is a beautiful lagoon. The indoor spaces are divided between two beautiful structures. One is a designated living area with a dining table, a large couch for lounging and a bar area.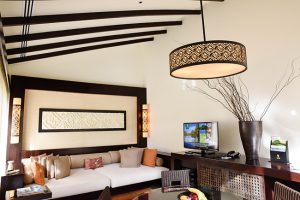 The other contains the bedroom, bathroom (with an outdoor tub) and walk-in closet.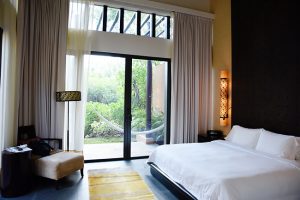 We loved how the bathroom and closet had a place for everything, which made it easy to unpack and find everything when needed.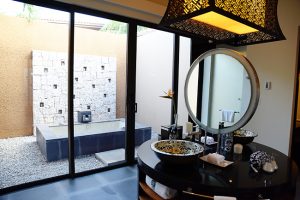 Our outdoor bathtub was perfectly settled beneath a palm tree.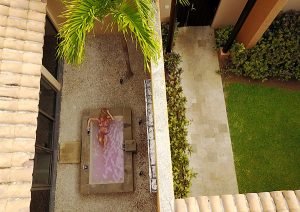 The room is spacious, yet cozy and the best part: you can enter your pool directly from your room.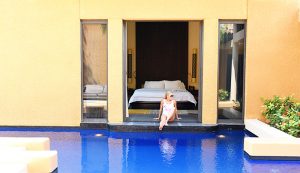 This villa is seductive. You won't want to leave. We had BIG plans of exploration of the area and as each day came, we cancelled those plans, opting instead to be with each other. And we needed that. We went to bed late, we slept in, we brunched, we floated in our pool, we disconnected with the outside world and we talked. We were unknowingly guided into some much needed "us" time.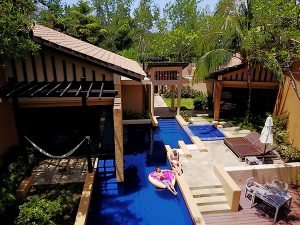 There are two things that Eddie is not: (1) a Mexico guy; and (2) a go to the same place twice guy. Half way through day one, as he wafted across our pool, in a large, pink donut floaty, Mezcal in hand, he suggested we return every year. By day three, we were exploring Mayakoba property options. It's that good.
Dining
There are plenty of dining options at Banyan Tree, and because we didn't leave, we tried most of them. Brunch is phenomenal! You can choose from the full brunch or a lighter brunch. We did the latter every morning.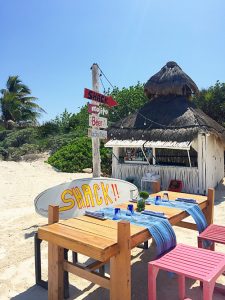 We had a delicious lunch of seared tuna wraps and tacos at The Sands. Mauricio, who we loved chatting with at breakfast and lunch, shared with us the origins and traditions of some of the food we were enjoying and brought us traditional fried chapulines (grasshoppers) with a splash of Mezcal to wash them down.


We had dinner on the deck of Banyan Tree's signature restaurant, Saffron, and dinner at their new Italian restaurant, Cello. Both were perfect.
And then there is HAAB. A full-on dining experience rich in traditional Mayan food and culture. If you are planning to stay at Banyan Tree, or nearby, you cannot miss this. Be sure to make a reservation as space is very limited.
People and Details
Details are important at Banyan Tree Mayakoba. From the bike mechanic who swings buy to pump up your tires, to the coolers full of ice cold water all around the pools, to the fresh pastries in reception for the early morning arrivals and departures, to being offered two types of bug spray…on a silver platter at dinner, nothing is missed.


And their people, all of them, are top notch. You know a company is doing something right when it's obvious their people want to be there. Viridiana, the experience concierge answered all of our questions before we even arrived. Mauricio, our server at the Sands restaurant, was so warm and pleasant and loved sharing information about the culture with us. And, the assistant GM, who saw us admiring the beautiful wooden doors on the property, and stopped to share their cultural significance and the surprisingly harmonic blending of the Thai and Mexican culture.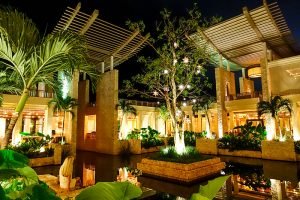 Thanks to Banyan Tree Mayakoba, I was pleasantly surprised by "grown-up Cancun". We will be back and we will stay longer. If you're planning a trip to the Riviera Maya area, this is THE place to stay.
Enjoy the video and scroll down for more details!
Are you ready to book your stay at Banyan Tree Mayakoba?


Ride your cruisers around the Mayakoba complex and visit the pueblito and cenote.
Cruise the lagoon on the boat shuttle.
Try the La Adelita cocktail of Mezcal, lime cubes and watermelon liquor.
HAAB is a must!
Visit the spa.
Order one of the special in suite baths off of the bath menu.