We ended our Southeast Asia expedition with what we had planned our entire trip around: a cycling adventure through Cambodia with Grasshopper Adventures.
This was not my first time exploring by bike. A few years ago, I rode up and down the French Alps while chasing the Tour de France. It was epic and I learned then and there that this is an outstanding way to explore an area. For one, you have a guide. Not only is this great for navigation and safety, but it's great to have someone share information on the area and answer all your questions. For two, you cover a lot of ground while still being open to your surroundings and you can discover areas you may not otherwise see. For three, riding bikes is fun!
We initially signed up for Grasshopper's West Tonle Sap tour, which offers three days of cycling through Cambodia's countryside. This tour starts in Siem Reap, so we decided to add on the Angkor Wat Sunrise Discovery day tour the day before our multi-day tour departed. I am so glad we did!
Angkor Sunrise Discovery
The Angkor Temple Complex is massive. Like over 400 acres massive. Visitors could take days to get through it if using a self-guided strategy. That being said, not using a local, professional guide would be doing yourself a major disservice. And, touring by bike allows you to explore more in a shorter period of time, takes you to areas you wouldn't normally see and adds the element of fun. Don't just take it from me. TripAdvisor recently suggested that a bike tour is the best way to see Angkor Wat.
Our Grasshopper guide (Chin) picked us up at zero dark thirty; pre-dawn early; really early. We picked up a few more people, purchased our passes for the complex and went straight to Chin's special viewing spot. We were some of the first people there. Others trickled in, but we had plenty of room. As we waited for that first hint of light, I felt my tummy rumble and, as if on cue, Chin came around with pastries for everyone.
We could see the back of the temple start to light up and saw the sky change from purple to pink to orange as the sun rose. It was a magnificent introduction to Angkor and I was in love already.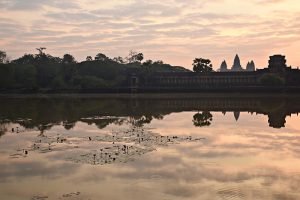 After marveling at the temple from afar, we crossed the bridge to the entrance. The funny thing is, as we were entering the complex, everyone else was leaving, so we had this big beautiful temple all to ourselves. Chin guided us through and gave us a nice historical overview of the wat and Cambodia's rich and, at times, stormy history. By the way, Angkor means "city" and a wat is a temple. So, Angkor Wat translates to "City of Temple".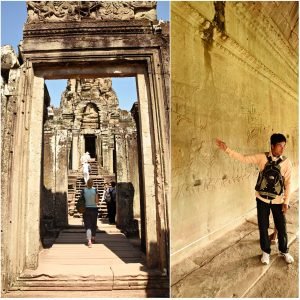 From there, we walked just outside of the temple wall and over to a pavilion where a full breakfast spread of eggs, cereal, fruit and COFFEE was waiting for us.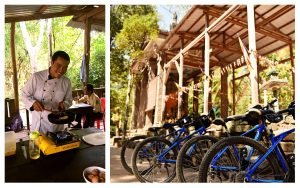 After breakfast we got our bikes sorted and we were off!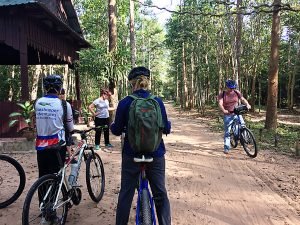 We travelled along back roads and trails, weaving in and out of those must-see temples, like Ta Prom and Bayon, and other, lesser known, temples and ruins that we had all to ourselves.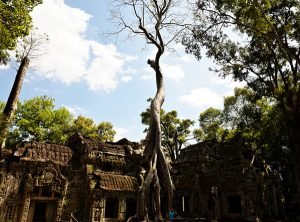 It was amazing to ride along rivers on quiet jungle trails and then pop out at a massive, bustling temple. Chin was a wealth of knowledge and had all the answers…and the jokes.
A couple of hours in we stopped for cold water and snacks that a Grasshopper support van had ready for us upon arrival. Fueled and hydrated, we were off for more exploring!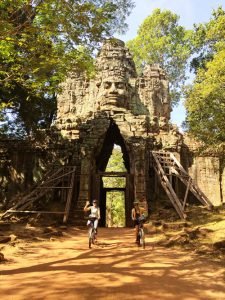 After a full afternoon of riding bikes, exploring temples, marveling at massive coiling tree roots enveloping ancient ruins, making new friends and enjoying Chin's jokes, we all sat down for a delicious lunch and a cold beer to end the day.
West Tonle Sap Day 1
The next morning we were picked up from our hotel and taken to Grasshopper's offices where we joined the rest of the group, were briefed on how the next three days would unfold and were fitted on our beautiful bikes.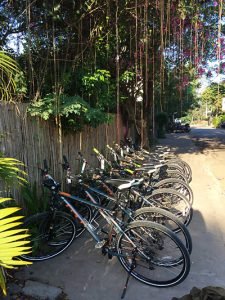 We loaded into the vans and drove a few hours into the countryside where we stopped for local snacks at a roadside food stand. I opted for nicely seasoned cricket, while Marisa had cricket with a side of rat.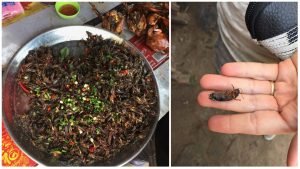 Soon after, we enjoyed a "real" lunch that was served family style and with consideration to the vegetarians in our group. Heang, our guide, selected some local favorites, which made it so easy.
Battambang
We checked into our hotel and had some time to settle in and rest before an afternoon of exploring the town of Battambang. This first afternoon of riding we stayed on main roads as our guides led the way.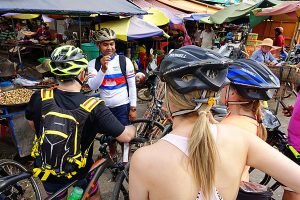 Once we got a tour of the town, we rode out to where the locals go to ride their bikes and motorcycles on what was formerly an airport runway. Once we got there, we had a beautiful snack spread waiting for us and cold water to refill our bottles.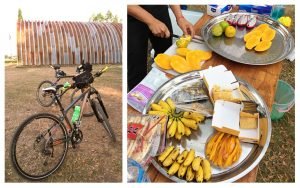 To back up a bit, before leaving on this trip, my cyclist and triathlete friends had a lot of question regarding food on this trip: "Will you need to carry food with you? Will there be water? Is there support…with food? What will you eat?" We were WELL fed, folks. Every time we stopped, we had a spread waiting for us. It always included fresh fruit and anything else you would want on a bike ride. I have no doubt that I ate my body weight in mango and coconut cookies.
Okay, back to day one! After cruising around the airport, we loaded up our bikes and drove out to the famous bamboo train. The bamboo train is a single rail track that locals use for transportation and tourists use for the experience. And, it's quite the experience.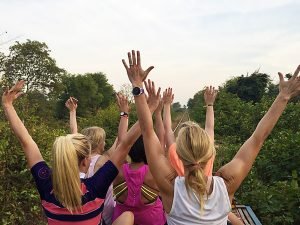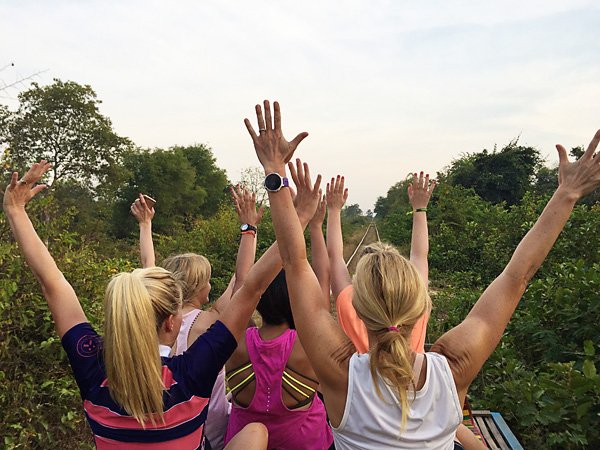 Technically, this isn't a train. The "cars", called norries, are not connected to each other. And, your norry is assembled as you wait. Seriously. Your operator tosses a bamboo platform onto two sets of wheels and off you go. Oh, and two-way traffic travels on this one rail system, so if another norry is coming towards you, someone has to disassemble their norry and remove it from the track. Once the oncoming traffic has passed, the waiting norry is reassembled, placed back on the track and back in business.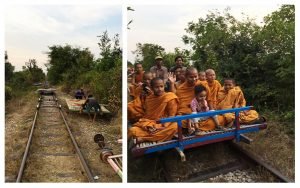 That night, we went out for a delicious dinner and got to know the rest of our group a bit more.
Day 2: Village Life
The next morning we got off to an early start and explored the villages of Battambang. We had our Grasshopper guides and were joined by two more local guides, which I thought was brilliant.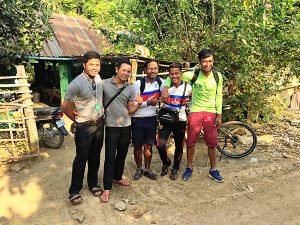 Riding through the villages, as locals were getting their day started, and being able to take in the sights, sounds and smells, made me feel, in a small way, a part of life here.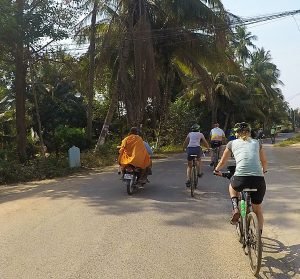 Our first stop was a rice paper maker's traditional stilted home.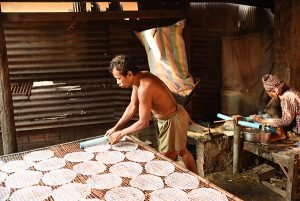 So much labor goes into these handmade staples.
From there, we hopped on our bikes and cruised down the smooth, palm tree lined, dirt roads to try out some locally made rice wine. It was before 10 a.m., but that's okay. We were being cultural.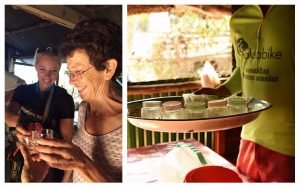 We continued checking out the rest of Battambang including the fish paste factory and the Ta Dumbong statue (Battambang's namesake), which is a roundabout in the middle of town.
We stopped at a home for a classic Grasshopper snack spread and fresh coconut! Shortly thereafter we stopped on the side of the road to try a classic local snack of sticky rice cooked in bamboo. See what I mean about being well fed?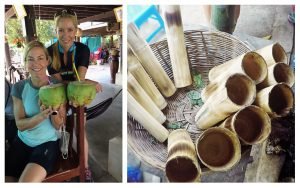 After a full morning, we returned to the hotel with time to shower and pack up before lunch in town and then a drive to the town of Kampong Chhnang where we would visit a floating village.
Floating Village
The homes, floating on the Tonle Sap lake, were lined up like any other neighborhood, many with lovely gardens on the sides and fronts.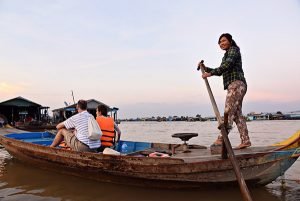 The residents are primarily Vietnamese families whose livelihood comes from the water. It was spectacularly beautiful to row through on a boat at sunset.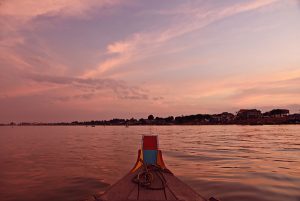 We stayed in the town of Kampong Chhnang that evening and woke early the next day to explore the villages, which included a stop at the home of the most delightful pottery maker.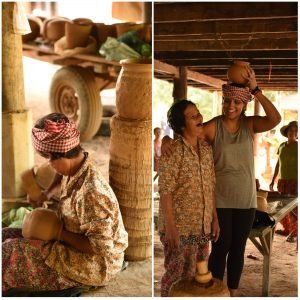 It was remarkable to see the labor and detail that went into each one of these handmade pieces.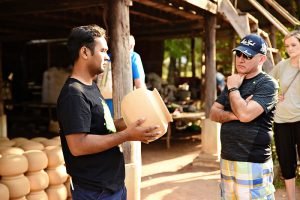 From there, we drove to Cambodia's former capital, Oudong, where we visited a beautiful mountain top temple and then had a snack (of course) before riding through the villages to Phnom Penh.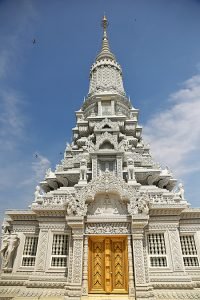 The Road to Phnom Penh
This was my favorite day of riding. We road down all back roads through villages and, again, I felt a little closer to the culture. Almost the entire way, the kids would stop what they were doing and yell "helllooooo", holding out the "O" for as long as they could. We passed tuk-tuks, temples and quite a few cows.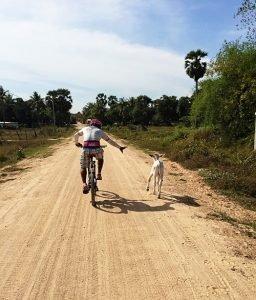 It was just so lovely. I think I had a smile planted on my face the entire day. We had lunch at a temple, which is where we and three other women (also on a "girl's trip") separated from the group (who would be riding for a few more days) and continued the beautiful ride to Phnom Penh.
Upon finishing the day and the tour, one of our guides disappeared for a few minutes and returned with cold beers for everyone. Finishing was a rewarding feeling, although bittersweet, as it was time to say goodbye.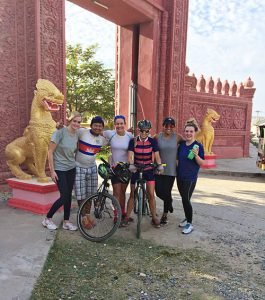 What I loved about this trip was the in-between. Getting into some of those smaller towns, which allowed us to, culturally, get below the surface of what you would get by staying in the bigger cities. As I look back through the photos from this trip, I am in awe of what an authentic experience we had because of it. I walked away with a better understanding of Cambodia, some new friends and phenomenal memories.
When, Is Now
If you are someone who has been considering a cycling tour, but feeling overwhelmed by the prospect of planning and questions that arise, I am talking to you: Do it. It's a whole other level type of travel experience.
We did a lot of research to find a reputable company, so you don't have to. And Grasshopper makes the planning easy. In case you missed it, here is my pre-departure interview with them that will give you a detailed background on how and where they operate. Several people in our group were return Grasshopper riders. I plan on adding to my Grasshopper jersey collection, as well.
What we learned post-departure is that, not only were our guides knowledgeable, but keeping us safe and satisfied was imperative to them. There was always a guide in the front and one in the back. They acted as traffic control on the rare occasions that we crossed a busy street. We always had cold water and electrolytes available and were always checked on: did we get a good night's sleep, enough to eat, put on sunscreen, have our guide and hotel's contact info on us? Is our bike fit okay? Are we feeling okay? All we had to do is ride our bikes and enjoy all that Cambodia had to offer.
Are you ready to ride? If you have questions, I am happy to answer them! Comment below or send me a message.
Grasshopper Adventures operates in fifteen countries and offers a wide range of cycling adventures. Have a looksy here!


Love to ride, but your travel companion doesn't? Grasshopper now offers this epic tour that will make you both happy!

In terms of riding ability, for the Angkor Sunrise Discovery tour, you really just need to know how to ride a bike. Practice your handling skills a bit, as you are riding on dirt. For the West Tonle Sap tour, the cycling skills of our group members ran the gamut. We had young to mature and avid to beginner cyclists. The ride itself is not challenging, but you should do some riding before-hand to make sure you are prepared for the

distance and your sit bones are prepared for multiple days of riding.

There is ALWAYS a support van available.

If you have dietary restrictions, let Grasshopper know at the time of booking. They will accommodate you.

Leave some time to explore Siem Reap and Phnom Penh. Add a Grasshopper day tour!

You will need to have your shoulders and knees covered when entering temples. More on what to pack below.

The bikes for both tours had pouches on the front that could hold any necessities.