I'd like to introduce you to professional vagabond triathletes Katie and Tommy Zaferes. "Professional triathlete" means they swim, bike and run for a living. "Professional vagabond" means they do so all over the world. They are ITU triathletes which means they race on an international circuit against the best triathletes in the world, all who have one goal in mind: secure that coveted spot to the Olympics. In 2016, Katie did just that and, she will spend the next four years relentlessly training, racing and sacrificing in an attempt to return to the Olympic stage. And, currently ranked first American and 3rd in the world, she's off to a pretty good start.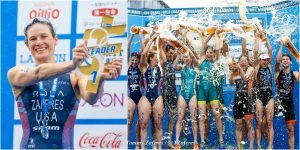 Katie and Tommy spend nine months out of the year on the road. If they are not racing in one of the countries on the circuit, they are training in France or Spain. Last year, they decided they were tired of being homeless, while back in the States, and built a "tiny house" featured on HGTV's "Tiny House Nation".
Oh, and one more thing you should know, Katie and Tommy are two of the nicest people you will ever meet. So let's talk travel, training, Olympics and tiny house with team Zaferes.
*Unless otherwise noted, all photos are courtesy of Tommy Zaferes.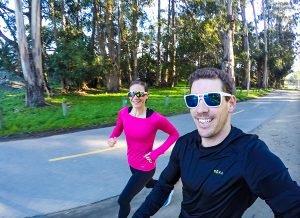 WIN: First of all, where are you? I can never keep track of you guys!
Katie: Les Angles, France!
WIN: You guys met while training and racing on the road. Where and how did you meet?
Katie: We me in Tiszjuavaros, Hungary. Tiszy for short! We were both competing at a world cup and we started talking after the race and never stopped!
WIN: What does a typical day look like for you, while at training camp?
Katie: A typical day is a swim in the morning. Some days, if we have a double run, we'll run down to the swim as it is about 6k. Then we'll have a ride and usually a run in the evening. In between training it's basically just napping and sleeping. We don't have internet at the place we are staying, well it's in the lobby but for us it's not worth it. So we rely on T-mobile's universal data to stay updated.
WIN: Do you get much time to explore the areas where you are training?
Katie: Most of the exploring that we do is done via training. So we don't typically go to many of the tourist spots, but at the same time we get to see a lot!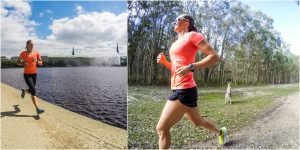 WIN: Do you have a favorite place in the world you've trained?
Katie: For me (Katie) I would say my favorite place to train is either Banyoles, Spain or here in Les Angles, France. Both are similar in that there are trails and a lake and endless miles of roads to ride on. The only reason I think Banyoles might trump Les Angles is because here we have to drive about 20 minutes to get to the grocery store, also my Spanish is a tad more advanced than my French and there's flat riding options. However, in Les Angles there's quite a few more running options and the scenery is a lot more dramatic. So tough call!
Tommy's favorite place to train is actually Santa Cruz, CA. He loves having the ocean, redwood trees and mountains all in one place. There are endless possibilities of training options depending on what you're looking for. Plus, it helps that the weather is always temperate.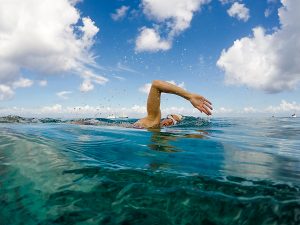 WIN: What about a favorite place to race?
Katie: My favorite place to race is in Cape Town, South Africa. I just love that trip. The landscape is so dramatic and the food is delicious and affordable! Tommy's favorite is Pacific Grove because it's close to where he is from and the views are awesome.
WIN: The time around a race is so tense, do you have much time to enjoy the country you are racing in?
Katie: That's actually something I struggled with last year. My first few years of racing around the world I always took time to appreciate where I was and the cities I got to visit. Last year I made it too much about racing and not enough about the experience. So, I'm back to making sure that each place I go I get to enjoy a bit of the culture and the city. This doesn't usually mean any extravagant tourism plans but just taking a walk, or trying a new food (post race), or making my ride/run a destination run to some landmark. Really, it's just being aware of my surroundings and appreciating them.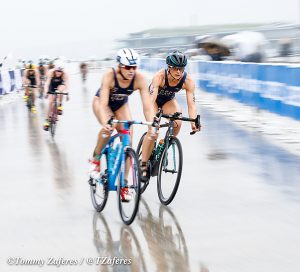 WIN: During the season, you race in a different country every two weeks. Considering you have to bring a bike, bike gear, run and swim gear, you must be a master packer by now! Can you share some packing tips?
Katie: What I've realized (with Tommy's assistance) is that you really don't need to pack much more for a 3 month trip than what you would have to pack for a week. The only thing you need to take into consideration is the changing weather patterns and to be prepared for both the cold and the heat. I've learned to really slim down on "normal" clothes, as my life basically consists of workout attire. Also, I don't bring much variety in the sense that I basically bring three of each thing: 3 running shorts, 3 cycling kits, 3 long sleeve tops, 3 short sleeve tops, etc. I do bring a lot of shoes to start and then as they get used I leave them behind. If you want to bring anything special just make sure it's worth lugging around. Sometimes I've brought my TRX or multiple dresses, and then I realize I don't use them at all so they won't make the cut the next trip.
WIN: Do you have any other travel hacks/tips you can share?
Katie: First I would say patience. When traveling expect the unexpected. Get places early, but also know that some things are out of your control, the airport's control and the airline's control. Sometimes you just get the shaft. Try not to let it effect you too much and just roll with it, knowing all will work out in the end. Also, if something does happen try to think of it as an experience.
American Express/Chase Reserve Cards: We love these cards. They have an annual fee that seems really expensive but if you're a frequent traveler they're completely worth it. We have lounge access, $200-$300 annual credit, they provide great insurance coverage and also really nice travel options. Plus they are so easy to work with if you need assistance. For us the lounge access is huge. Because I like getting to the airport excessively early, Tommy and I compromise as, when we get there early, we can go to the lounge before boarding and have whatever meal we are closest too. By the end of the year we've probably saved 100's of dollars by not having to buy stuff at the airports between the two of us.
I pack everything that I know I will need if my bag gets lost in a backpack (for me this is mainly training things like helmet, cycling shoes, extra undies and bra, one extra run outfit, swim cap and goggles) then I keep a drawstring bag full of the things I might want to access on the plane so I can grab it out of my back pack and tuck that under the seat in front of me. Usually that bag has my neck pillow, water bottle, kindle, a pen for customs forms and food.
We also are T-mobile customers which means we have global data everywhere we go. It's throttled at 2g but has been awesome being able to look up directions or stay in contact.
Tommy bought me this thing called a Scrubba Wash Bag for Christmas, and it has been awesome! We take it when we travel for the places that we don't have direct access to washers. It's not very large, but I do believe the clothes come out cleaner than when we put them in.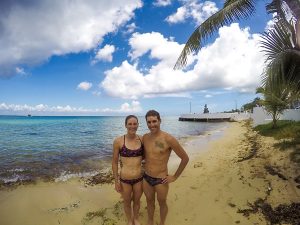 WIN: I've seen some pretty funny posts from you guys on the road, like laundry day in the shower, can you share some more funny moments from traveling?
Katie: After racing Escape from Alcatraz we were catching a plane directly after the race. We had to pack our bikes on the middle of the sidewalk and also change clothes and do a quick baby wipe wipe down as our shower before boarding the plane. Or, when my bag has gotten lost for a few days, but luckily Tommy and I are the same size so I just wore his clothes for like a week. Those scary moments when you misinterpret a foreign road sign or forget which side of the road you are supposed to be on. Trying to communicate when you're not that great at the local language. Also, getting lost, when we were in Portugal; we left excessively early for the airport, and once I set the GPS on my phone, I asked Tommy if it was ok if I fell asleep. Well, when I woke up and looked at the phone I realized we had missed our turn by like 2 hours or something (and were actually farther from the airport than when we started driving). We actually made our flight on time! I think that was one of those times that Tommy was happy with my time anxiety.
WIN: How about some hurdles while traveling?
Katie: Just not always being able to bring all the comforts of home or forgetting things you would like to have. Currently I forgot to bring my adapter so I can put my headphones in my phone. I also have a watch that is broken and since we are away it takes time to get replacements shipped out. Sometimes the language barrier can be difficult. Just because I feel like I should know the language of each place we go, but I have a hard-enough time learning Spanish. I at least try to pick up how to say hello, thank you, sorry and good bye wherever we are. The differences in eating, especially since nutrition is a big part of our job, and to make sure we are eating right and not just easy because of the area. For instance, at home I eat a lot of smoothies, but when we are on the road I don't always have a blender and frozen fruit is not so popular.
WIN: What's the most frightening thing that has happened to you while being in a foreign country and how did you handle it?
Katie: Luckily, I don't feel like we have had that many scary experiences. We are very mindful of not putting ourselves into scary situations. In some places I won't train alone, and I'll make sure that I always have Tommy or someone else with me. Other places I won't walk after dark alone to get back from somewhere. Sometimes there have been scary situations on the bike with aggressiveness, but luckily nothing has ever escalated.
WIN: What has being on the road all the time and travel in general taught you?
Katie: It's really taught me to appreciate these experiences. I know I've been given a great opportunity to see so much of the world that I may not have crossed paths with otherwise. From the small towns we stay in to train to the cities we race in. I think it's taught me to really appreciate different cultures and the unique qualities about each.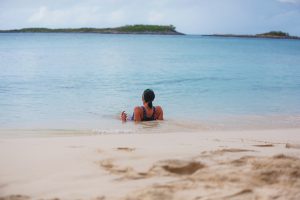 WIN: Do you tire of the nomadic lifestyle?
Katie: Sometimes. Usually by the end of the year I am ready to go home. But honestly until this past year Tommy and I really didn't have a home to go back to. I would look forward to going back to just the comfort of the USA. The ease of being back in an English speaking country where I had my own fridge, my own bed, foods and grocery stores I was familiar with and being surrounded by family. However, what's nice about the way Tommy and I travel, is that we get to do all of this together. If we didn't get to be together while we were on the road 9 months out of the year I don't think I would enjoy it nearly as much.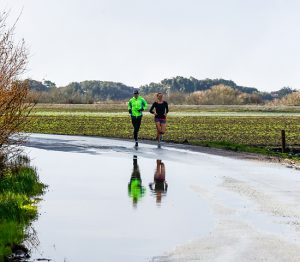 WIN: You recently designed and built a tiny house. Did any of your travels influence the design of it?
Katie: We did! And I would say a bit, we didn't want our home to scream triathlon, because we kind of wanted a get away from the tri life. However, we did include pictures that Tommy has taken during our travels and have them framed. There's also a globe 🙂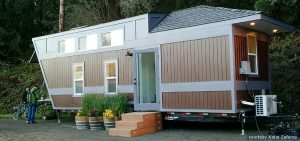 WIN: Travel, no matter how experienced you are, can get a little stressful. How do you balance that on top of that pre-race anxiety?
Katie: I would say mostly by trying to plan the most I can for the unexpected. I do this by getting to the airport in plenty of time (I'm usually the first in line and have been known to be there before the counters even open). I also travel with everything I would need to race in case my bike or bag got lost. Basically, I have everything except my bike, which I would be confident I could source a loaner in time for the race. Besides that, I think it takes just being relatively laid back and not letting lost luggage, delays or cancellations effect you too much. In addition, I take the time to familiarize myself with the area before actually getting to where I am going. I know the closest grocery store, the closest pool and where I intend on doing most of my training. I use Strava to look up running and cycling routes in new places so that I can see what the best places to train are. That way, once I get there I don't feel lost from the get go. Mostly I just plan that everything is going to take more time and more energy than expected. And I try to balance that with making it all part of the adventure.
WIN: I bring home a pen or pencil from each place I travel to. Do you guys collect souvenirs?
Katie: Tommy just collects pictures and not much else. I like to send postcards. I usually send 6 postcards home from each place we go and one of them I address to myself and write about how I feel about the place and what has been going on.
WIN: Did you travel a lot while growing up?
Katie: I thought so, until I became a professional triathlete! My family traveled a lot for swim meets and then we would always go on a summer vacation. Usually to the Outer Banks, but also we went out west, and did a few Caribbean cruises. I had never been outside of North America before racing triathlon. Tommy's family did pretty much the same. They traveled for swim meets and such, as well as took some road trips.
WIN: Tommy- as the team photographer, you shoot a lot of people in motion can you share some photo tips for action shots and capturing people's personality.
Tommy: Sports photography is all about anticipating the moment. If you know what is about to happen you can get the shot you're looking for. As an athlete myself, it's quite a bit easier to anticipate moments. It's the same when photographing facial expressions during casual conversation or interviews. My advice is practice, practice, practice!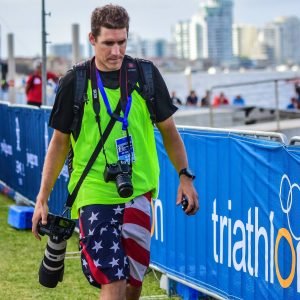 Photo courtesy of: Wybrand Du Toit
WIN: You're also pretty punny- do you have anything for us?
Tommy: To please the hill rep gods you must sacrifice two calfs.
2000lbs of Chinese dumplings is equivalent to wonton.
WIN: You were in Rio for the 2016 olympics- What was that experience like? Did you have enough time to explore? Or, was it strictly business?
Katie: Rio was a bit disappointing for me, but this had nothing to do with the location or the Olympics. We arrived into Rio on August 15th and my race was August 20. So, up until the race, I was really focused on my competition and making sure I reserved enough energy. The problem with this was when my race was over the Olympics was over. Closing ceremonies was the next evening. I'm sad that I did not take more advantage of the Olympic experience. I was disappointed in my race and though there were certainly amazing parts of it, I think overall I kind of failed myself. I saw the Olympics as too much of a job. I was lucky though as I got to walk in the closing ceremonies which was pretty amazing to be on the stadium floor with all the different athletes from all over the world. In addition, my family and I went out to a Brazilian BBQ after the race which was delicious!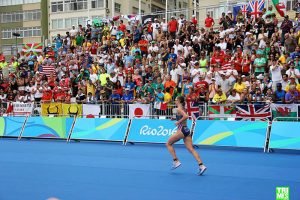 Photo Courtesy of Trimes
WIN: Do you feel the area you were at was adequately prepared for the tourism and Olympics themselves?
Katie: I think Rio did a pretty good job. It was difficult because a lot of the venues were so spread out. So, we (the USA triathletes) actually didn't stay in the athlete village until after the race. My parents and Tommy, who were not racing and were there for the experience, had a great time though!
WIN: Looking back, would you have ever thought this would be your life…traveling around the world?
Katie: I was planning on being a teacher when I graduated college in 2012. Being able to live this life has been so amazing! I met my husband in Hungary and have gotten to travel the world and meet so many different people while seeing so many new places all as part of my "job".
WIN: Thanks for your time, Katie and Tommy! It's always a treat to chat with you!
I highly recommend following along on Katie and Tommy's adventures! Pick your poison(s):
Blog/website:
Facebook:
Instagram:
Twitter:
Tommy (jokes and puns galore!)