I discovered San Sebastián completely by accident. In fact, we weren't even planning on going to Spain, but after booking an amazing British Airways deal to Barcelona, I found myself googling "wine tasting Barcelona", which led me to the Rioja region, which led me to San Sebastián.
It did not take much reading and researching to realize that we absolutely had to go to this magical land of food, wine, mountains and beaches. It turns out that San Sebastián is about a 5 hour train ride or a one hour flight from Barcelona, and the Rioja region is about a 90 minute drive away, but we got all of the logistics easily worked out and everything went smoothly.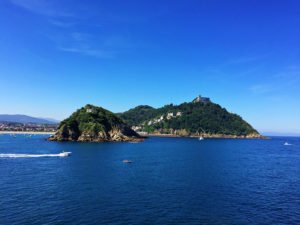 Food, Wine, Mountains and Beaches!
Although there is a closer airport (Bilboa), the fantastic flight deal we booked had us flying in and out of Barcelona, so we took the train from Barcelona to San Sebastián. We arrived in the evening, made it to the historic Hotel Maria Cristina (read about our stay here) just in time to unload, freshen up and then head out to our first fantastic dining experience. I'll pick up on that experience a bit farther down, but first let's start with an overview of the food and wine the Basque are famous for.
Pintxos
What the heck is a pintxo (Peen-cho)? The simple explanation is that it is the Basque version of the Spanish tapa. Usually it is something skewered, but not always; it could also be a small plate. As the pintxo culture evolves, you can find pintxo bars that pull from the molecular gastronomy that's seen in some of the Michelin starred restaurants in the area. Nonetheless, a pintxo is a small bite. In San Sebastián, the pintxos include plenty of the local/ traditional foods, such as fish, risotto (orzo) and seasonal produce. The Basque pride themselves on fresh, locally sourced ingredients. Food is a big deal here.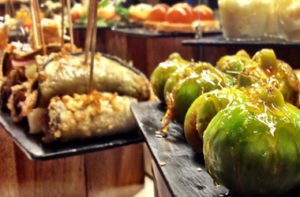 Mmmm…Pintxos. Photo courtesy of Basque Tours.
How to be a pintxo hunter
Because of San Sebastián's proximity to France, the French love to travel over the border for the Basque cuisine. The locals refer to them as "Pintxo Hunters". For San Sebastián, pintxos are a culture in and of themselves. Pintxos are served differently depending on where you are. You can order them from a server and they will be brought to you on a plate, you can grab a plate and serve yourself from the bar, or you can order off of a menu at the bar and the bartender will serve you. We found that the better quality pintxo places operate in the latter method, so let's focus on that for a minute.
The trick at the more modern, gastronomy focused bars is to order from the chalkboard menu. That's where you'll (mostly) find the hot pintxos. That menu is going to offer pintxos with the freshest ingredients and those that are the specialty of that particular bar. Most of the time, you are not going to understand what is listed on the menu. If you're adventurous, just order a few things. If not, ask! The cold pintxos are usually visible on the bar, so if all else fails, just point.
Once you order your pintxos, order your drink to go with it. Typically this would be one of the local wines (more on wines in a bit).
The wine will come to you in a smaller pour. Why? You're not meant to stay long. The whole point of Pintxo hunting is to "bar hop". They want you to try a few of their delicious offerings and then move on to the next bar, so the next wave of hunters and locals can come in.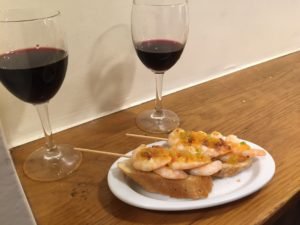 Pintxos and Crianza
You'll notice two things right off the bat: (1) the bars are crowded; and (2) napkins. Napkins on the floor. Everywhere. It is completely acceptable and expected that you just toss your napkin on the ground. In fact, some say that's a sign of a good pintxo bar! Many of the pintxo bars operate on the "honor system". So, you order your pintxos and wine, enjoy them and when you are ready to continue on with your hunt, you remind the bartender of what you had and settle up with him/her on your way out.
There are tons of pintxo bars in San Sebastián, but the best ones seem to be spread out in old town. They are not all created equal, so do a little bit of research, ask the locals and use Yelp. Yep- we found some great places by using Yelp.
Zeruko is one of the top pintxo bars and was a favorite of ours.
Just go out and explore! Our night of pintxo hunting through San Sebastián in the rain is one of my favorite memories.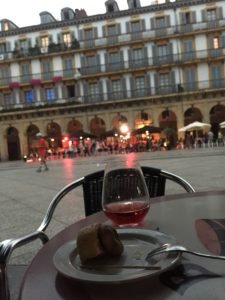 Pintxos + Rosado + Passing Thunderstorm = Perfection
Rioja Wines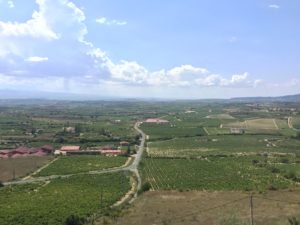 Rioja
Let's talk about wines. Understanding and ordering a Rioja wine is fairly simple. These beautiful old world wines are highly regulated by the Spanish government as to how they are labelled.  You have four choices: a young wine, a crianza, a reserve and gran reserva. If that isn't simple enough, they have a color coded label on the back of each bottle that lets you know which one it is. These terms also apply to white wines. However, since we only had the reds and an occasional rosado, we'll stick to those in this post.
Young- A young wine is exactly what you think it is: young. These wines will spend less than a year in the barrel
Crianza- In order for a wine to be labeled a crianza, it has to spend at least one year in an oak barrel and at least one year stored in the bottle after that. This was our "go to" for the majority of the time. It's quite delicious and will run you 3-4 euros in the pintxo bars.
Reserva- A reserva has to be stored for three years with at least one of those years in oak.
Gran Reserva- A gran reserva is required to be aged for at least five years.
Although we said we won't be getting into whites this post, we wanted to tell you about the Txacoli. Often, particularly in the pintxo bars, you'll see a white wine poured from a green bottle from a high level. We did not try it, but it is a young white wine that has a low alcohol percentage and is usually pretty dry.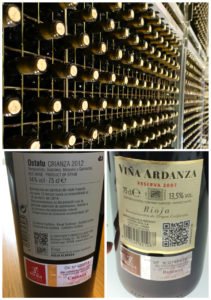 Rioja wine storage in bottles and color coded labeling.  
Here's a graph, from the court of Master Somelier's, that shows requirements for reds and whites:

Dining in San Sebastián
San Sebastián is home to 16 Michelin stars. It is culinary heaven. But, even restaurants without that famed star are fantastic. I'll say it again: The Basque are serious about their food and wine. We had a chance to dine at 4 (mostly) fantastic restaurants that the amazing concierge team at the Hotel Maria Cristina organized for us. Here are our experiences at each one:
Our first night in San Sebastián we got in a bit late, so we dropped our bags in our hotel room, freshened up and hopped into a cab for our first San Sebastián dinner.
We were about 15 minutes late for our reservation at Saltxipi and the servers made it quite clear that they were not thrilled with us showing up so close to closing time. Fortunately, our main server ended up being the owner, Gorka, and he was much more pleasant. We sat outside on their beautiful patio. We had the spider crab, which is their specialty, a beautiful bottle of wine and, upon Gorka's recommendation, I had the monkfish. It was all absolutely delicious and I would go back in a heartbeat. After dinner, Gorka called us a cab and stood outside and chatted with us while we waited.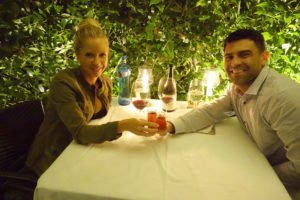 Patxaran digestive at Saltxipi.                                                         
Our second night was my favorite dinner of the entire trip. It's a bit of a drive from San Sebastián, but Michelin starred Zuberoa is well worth it.
The atmosphere is beautiful, upscale but unpretentious dining, set in a 650 year old farmhouse. The restaurant has been there for 65 years and the chef has been there for 45 years. The service was exceptional and the food was outstanding. We started with the lobster ravioli. For entrees, Eddie had the roasted duck and I had the hake with clams. It was all fantastic! They will tell you that their cheesecake is unlike any other you have had and they are right! Cheesecake is not something I would typically order, but it was the best cheesecake I have ever eaten. The food was amazing and we felt so comfortable and welcome, we closed the place down while sampling some of their bourbons.
On our third night we went down to the fishing village of Getaria to the family owned Elkano, which was just recently awarded a Michelin star. We researched Elkano before dining there and much of what we read suggested letting the owner choose your entire meal. So, that's what we did. He suggested the turbot, which they are known for, and a beautiful bottle of white wine to pair with it. The turbot came out as a whole fish for us to share. The owner prepares it for you at your table, and explains each part of the fish to you and the tastiest parts. It was a really nice experience and the fish was amazing. Just a simple, perfectly grilled fish. Between the fantastic service and delicious food, Elkano was another favorite.
Our 4th and final dinner was at Rekondo. The location and setting are absolutely beautiful. We were able to sit outside under the big beautiful tree that dominates their patio. One person comes to take everyone's order and it took about 20 minutes for that person to get to us. However, the food came out fairly quickly after that. Eddie ordered the suckling pig and I ordered rice and clams, which is a local specialty and a popular dish to order here. They were good, but this was our last of five nights of incredible dining, so our meal here had a lot to live up to. Once we wrapped up dinner, it took well over 20 minutes to get our check. We had to ask for our check twice during that time period and asked for a cab to be called both of those times. Before dining here, we were told we should ask to see their wine cellar as it is supposed to be one of the best in the world.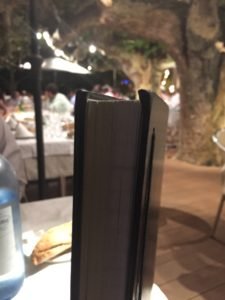 Rekondo's wine "list".
It took so long for everything else that we didn't bother. Overall, there are way too many amazing dining options in San Sebastián to settle for bad service and expensive, average food.
That wraps up our incredible food and wine experience in San Sebastián. Just a couple of additional notes:


We were blown away by San Sebastián. It is not only a food and wine lover's destination. It is a beach, mountains, culture, history lover's destination. You can find more San Sebastián images in the Basque Country and Barcelona photo album!
We highly recommend contacting Basque Tours. We did two tours with them and wish we would have done more. They are professional, personable, knowledgeable and offer a lot of great tours to chose from. We would go as far to say that they are the best tour guides we have ever used.
Summer is the best time to visit.
The Basque language is nothing like Spanish. Nothing.
The Basque people know Spanish, but would much prefer to speak to you in English.
Brush up on your knowledge of Basque history; it's really fascinating.
As always, please comment or inbox me with questions or comments on your own experiences!