"Junk" Boat?
I'll admit it: I was completely thrown off when I read the words "luxury" and "junk" to describe our Halong Bay lodging, but I was ready to find out what this "Junk Boat" experience was all about! What I learned is that "junk" comes from the Javanese word djong and translates to "ship" or "large vessel," and isn't remotely similar to our English interpretation of something that holds no value. I also learned that Halong Bay is a prime spot to cruise on a Junk Boat. It is the best way to fully experience this UNESCO World Heritage Site.
My friend Marisa was eager to visit Halong Bay and I was more hesitant because of the time of year. We were visiting in January, which is when Northern Vietnam experiences a mild winter. Marisa checked with her friends who had Halong Bay cruising experience and there was one boat that was mentioned multiple times. So, we booked it. We were set to sail on Heritage-Line's five-star junk boat: Violet.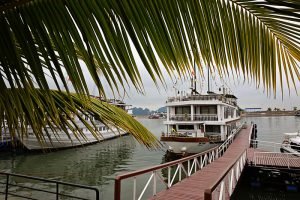 Our transport picked us in Hanoi for our scenic three-hour drive to Halong Bay. Once we arrived, we were taken to a lounge area and presented some warm tea and a menu that offered light snacks and additional drinks. Soon after we arrived, we were greeted by Sammy, our "Cruise Director," which meant he was our go-to person if we needed anything.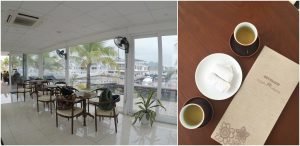 Exclusive Violet
We waited in the comfortable lounge for a few more guests to arrive. Once we boarded the boat, we gathered in the dining area for a brief introduction followed by safety information, an overview of the boat and our itinerary while we were aboard. We were given a tour of our rooms and began cruising.
There are several things that make Violet unique and give her the stellar reputation that she has, but her biggest attribute is that she has only six suites. With a maximum of twelve guests at any time, this provides for an exclusive experience. To add to that exclusivity, there is at least one staff member per room, so you are well catered to.
The ship was built in 2007, but is a beautiful replica of a luxury junk boat of the 1930s, built primarily of wood and adorned with brushed bronzed finishes and luxurious textiles. One of the striking things about Violet is how such a small ship can offer so much with large suites, a comfortable dining room with a bar, a library, an expansive deck and even a massage room and gym.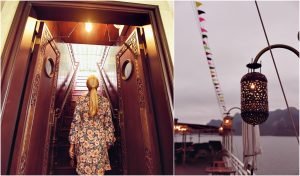 Marisa and I were in one of two rooms with twin beds. We were on the lower level near the front of the boat. Our room had an outdoor deck, floor to ceiling windows and a full bathroom with a soaking tub.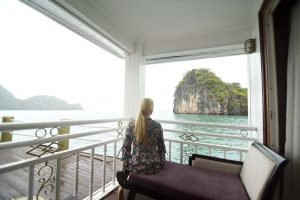 I loved the added details like the armoire and the vanity.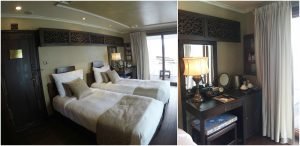 It was incredible to watch Halong Bay's massive limestone karsts pass by through those floor to ceiling windows.
Exploring Halong Bay
When most of us think of cruising, we think of just hanging out on a boat and basic buffet meals, all intended to appease the masses. On Violet, you have an action-packed itinerary that allows you to really experience Halong Bay's natural beauty and cultural history. Once we settled into our rooms, we had just enough time to enjoy a delicious Vietnamese lunch before exploring Halong Bay's unique offerings.
Once Violet anchors, a smaller boat, called a tender, pulls up for guests to easily board and be transferred to our destination. Our first stop was one of the many caves of Halong Bay. Tien Ong cave is quite large and we practically had it to ourselves. Sammy guided us through the cave and shared the natural history of how these caves were formed as well as the local legend. The most fascinating features of the cave were the icicle-like stalactites hanging from the ceiling and the stalagmites coming up from the ground.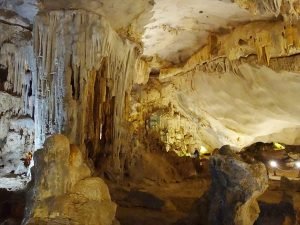 The caves aren't just for tourists to marvel at, they also provide protection for residents of the nearby floating village when large storms come through.
From the cave, our group took the tender to a floating village that is hundreds of years old, but unfortunately one of many shrinking fishing communities. We were given two options to explore the village: we could explore in our own kayak or we could explore in a larger bamboo boat rowedby a local. We were ready to move our bodies and wanted to have a little more control over where we went, so we opted for the kayak.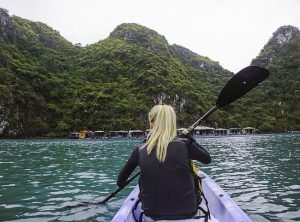 We loved exploring this way.
The village is in the center of huge limestone karsts, which offer protection from fierce winds and other unwanted weather.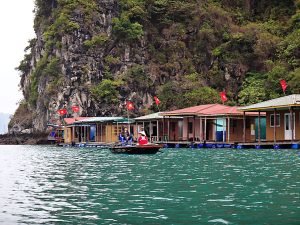 We returned to Violet for a little bit of down time and were eventually joined by the others who were on the boat for two nights and had been exploring other areas.
At sunset, I went to the top deck and was mesmerized as mist floated around the limestone pillars and the boats, with their gold twinkling lights, anchored in front of them for the evening. The thought struck me—there is nowhere else in the world that I could see what was before me.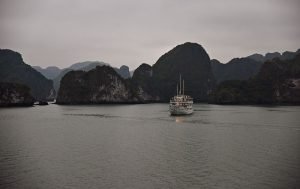 Before dinner, the chef came out to teach us how to make delicious Vietnamese spring rolls and then gave each person the opportunity to make their own. With such a small group, this was a fun time to get to know the other guests and have a good laugh at everyone's "spring roll skills".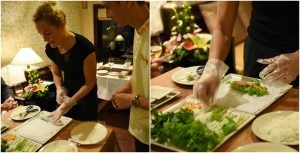 We had a fantastic Vietnamese dinner, with fresh, local ingredients. I ordered a soup that came with a lot of accoutrements, so Sammy (thankfully) came over to show me how to make it perfect.
While some of the other guests stayed up chatting, Marisa and I were exhausted and hit the sack early. After a fantastic night's sleep, we were up early the next morning. We woke to pastries, coffee and tea to be enjoyed before the Tai Chi lesson on the deck. After some time to get changed, we were off to our next adventure, a beautiful hike on Ti Top Island.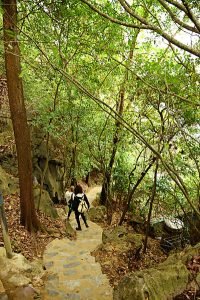 When I say "hike" it is more of a climb up 400+ stairs that leads to a spectacular view of the bay.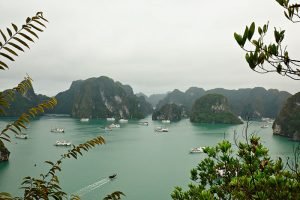 After the hike, we had the option to go for a swim at the beach before returning to the boat for our cruise home.
As we cruised back to the dock, we had time to pack up, have breakfast and say goodbye to our fellow cruisers.
Cruising Halong Bay is such a unique experience and cruising with Heritage-Line is the only way to go. Opt for the exclusivity and luxury that Violet has to offer and you won't be disappointed.
Find out more about Violet and Heritage-Line's other luxury boats here.
A special thanks to Marisa for modeling and sharing her own photos for this post.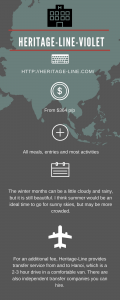 If Violet seems a bit too small for you, check out Jasmine, Heritage-Line's second boat in Halong Bay.
The junk boat experience is a busy one! You do not have to participate in all of the activities, but I recommend doing so.
There is no WIFI once on board. You will be okay. I repeat: you will be okay.
The kayak option at the floating village is an additional $15 per person.
Read below for some packing recommendations.