When planning our trip through Southeast Asia, we were "open". We were "flexible". However, we had one absolute must do: we had to do a cycling tour. In fact, we planned our entire trip through Southeast Asia around doing a cycling tour. Because, well, what better way to discover an area than from two wheels?
If you remember from my Phase I Itinerary post, I was able to rope in my active, adventurous, travel loving friend, Marisa. And, we like to ride bikes!
It was important to us to find a multi-day tour, put on by a reputable and experienced company, that offered a blend of great riding and enriching cultural experiences. That, is how we found Grasshopper Adventures. And, we are so glad we found them! They have been incredibly helpful in helping us select the best tour for us and have been quick to respond with each and every question we've had.
So, after some discussion with the team at Grasshopper, we decided on the "West Tonle Sap" tour, where we will spend three days riding through the villages and countryside of Cambodia. Then, we agreed that three days wasn't quite enough, so we decided to add on the "Angkor Sunrise Discovery" day tour, where we will watch the sun rise over the awe-inspiring temple and then spend the morning exploring the temple complex by bike. The thought alone of those four days, takes my breath away.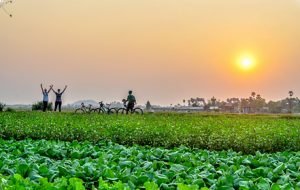 For many, the idea of planning a cycling tour in another country, leaves a lot of questions. Lucky for us, the team at Grasshopper Adventures agreed to an interview with When Is Now. I included some of my own questions, but also asked others, who range from people who get on a bike once a year to people who practically live on their bikes, what they would want to know about participating in a cycling tour abroad. Before we get started, I'd like to point out that the most reoccurring themed question I received was (drum roll please): FOOD. Folks really want to know about food.
Kelly Willis, the General Manager from Grasshopper Adventures, answers those food questions and many more below.
WIN: Kelly, thank you so much for taking the time to chat with us about your cycling tours! I know you offer some great tours in several countries, but since our tour will be through Cambodia, let's use that as the country we refer back to.
How long has Grasshopper tours been around and how did it get started?
Grasshopper: The CEO of Grasshopper Adventures, Adam Platt-Hepworth, rediscovered the simple pleasure of cycling in his mid-twenties, commuting by bike to his bank job in Melbourne, Australia. In 2003 he joined a fundraiser ride through southern China where he made a friend who would later found Grasshopper in 2004. Adam, inspired by the dual features of cycling and traveling in Asia, now leads the Grasshopper team.
WIN: How many countries do you offer tours in?
Grasshopper: We offer tours in 15 different countries. We run both day tours and multi-day tours in Cambodia, Thailand, Vietnam, and Myanmar. We run regular multi-day excursions in Laos, Sri Lanka, Taiwan, the Philippines, and Bhutan. Finally, we offer unique pioneering tours in Japan, China, Nepal, Mongolia, Uzbekistan, and India.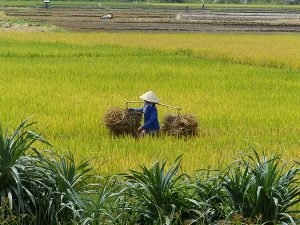 WIN: Considering all of those countries, on average, how many tours do you operate on a weekly basis?
Grasshopper: This can vary greatly depending on the time of year. During high season we might run more than 150 day tours and 20 multi-day tours in a given week, while during low season we may only operate 50 day tours and a few multi-day tours.
WIN: What nationality would you say the majority of your guests are?
Grasshopper: Our clientele is very international; we love having the opportunity to host riders from all over the world! While many of our guests are Australian, American, British, and Canadian, people also join us from Singapore, New Zealand, Colombia, Germany, India, Belgium, Israel, Malaysia, South Africa, Korea, Italy, the Netherlands, Peru, you name it!
WIN: Do I need a visa to visit Cambodia?
Grasshopper: Yes, most nationalities are required to have a visa to visit Cambodia, but the process could not be easier. You can simply obtain a tourist visa upon arrival at the airport or border for $30; it is valid for 30 days. Bring a passport photo along with you to avoid an extra fee.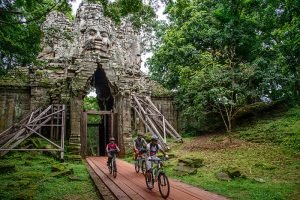 WIN: What level rider do I have to be to complete any of your tours?
Grasshopper: We have tours designed for every kind of rider, from relaxing rides for recreational cyclists, to more intense rides for experienced cyclists up for a challenge. We are happy to discuss expectations and preferences prior to booking to determine which tour will be a good fit for each of our guests. Children are also welcome on our tours; we have tours designed specifically for families and can provide children's seats and tag-along bikes.
WIN: Do I have to maintain a certain pace or does everyone ride at their own pace? What if a rider can't keep up with the rest of the group?
Grasshopper: We like to allow flexibility for groups to set their own pace; the guide will ensure we're basically on schedule to see all the sights. If a group prioritizes sticking to their own preferred pace, we do offer to arrange private trips as well. All of our multi-day tours are vehicle supported, so if anyone would like a break from the bikes they are welcome to hop in the air-conditioned support van for a rest.
WIN: What kind of bikes do you provide and do you do any fitting before riding starts?
Grasshopper: In Cambodia we use top quality imported GT mountain bikes fitted with hybrid tires for touring. In all countries we take pride in providing high quality, well-maintained bicycles (GT, Merida, Trek, Giant, etc.) Upon booking we ask for your height and upon arrival we take a few moments to make any necessary adjustments to ensure you are comfortable on your bike.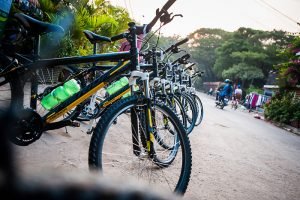 WIN: What else do you provide and what should we bring? i.e. helmet, cycling shoes, gloves.
Grasshopper: We provide helmets and water bottles, though some riders choose to bring their own helmets if they find theirs particularly comfortable. Our bikes come with standard, flat pedals. If you would like, you are welcome to bring your own pedals and we can fit them when you start the tour. You are welcome to bring cycling shoes, though we do not recommend road cycling shoes with protruding cleats – only those with recessed cleats. Many guests bring cycling gloves and shorts for comfort. On our multi day tours, handlebar bags and jersey are also provided. The country jerseys have become quite the collectables for repeat Grasshoppers!
WIN: What are the roads like? How are the surfaces? How is the traffic? Are drivers courteous to cyclists?
Grasshopper: The terrain really varies by country. On the 'West Tonle Sap: Angkor to Phnom Penh' tour you're joining, the road is generally a mix of sealed or hard-packed dirt. At times it can be uneven and bumpy, but perfectly achievable if you are confident with your balance on a bike. You will be on back roads and trails, spending minimum time if any on anything resembling a main road, so there is rarely any traffic at all. Anyway, many guests find that motorists in Southeast Asia are more aware of cyclists than in their home countries.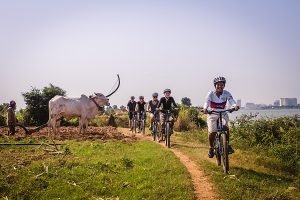 WIN: Are snacks, water and other support provided throughout the day or are the riders responsible for their own?
Grasshopper: We provide clean water and an abundance of local snacks and fruits. The sunrise tour in Cambodia includes breakfast and a hearty lunch. Our multi-day tours include meals as indicated on the itinerary. Enjoying a country's local cuisine is often cited as a highlight of our trips! Our guides love recommending local dishes and sharing that delicious aspect of their culture with our guests.
WIN: How do our belongings get from place to place?
Grasshopper: The support vehicle also functions to transport your luggage from location to location, so you will have access to your belongings throughout the whole trip.
WIN: What kind of weather can we expect?
Grasshopper: You're traveling during a cooler time of year, January, so you're avoiding the warmer heat of March-May. This is also during dry season so you should avoid getting wet. You can see more detailed weather information for Cambodia here.
WIN: What should we bring to wear?
Grasshopper: Bring whatever is comfortable for you to wear when cycling, including close-toed shoes. Also keep in mind that you should bring some clothes that cover your knees and shoulders in order to visit some historical and religious sites.
WIN: About how many riders are in your multi-day tours?
Grasshopper: The number of riders usually varies from 2 to 10 people. We like to keep groups small to ensure a personalized intimate experience, while also offering a fun social opportunity.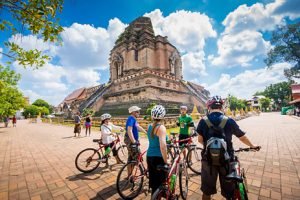 WIN: What do the evenings look like? Does everyone have dinner together?
Grasshopper: Meals are included on our multi-day tours, so we will all enjoy dinner together at quality, hygienic restaurants. It's a great chance to chat with your fellow riders as well as your guide who is a priceless resource for historical, cultural, and local knowledge. You are welcome to have input into meals, but our guides choose such great food that you may also choose to simply sit back and enjoy the delicious dishes that are put in front of you.
WIN: We always want to be mindful and respectful of the culture. Could you give us some tips on Cambodian culture?
Grasshopper: This is a great question! Your guide will give you some brief information about this prior to and throughout the tour, but a few tips to keep in mind include:
A respectful greeting, especially if you are entering someone's home, is the sompeah: a slight bow with your hands together in front of your chest, fingers pointed up.
Avoid touching anyone's head, especially those who are older than you, as this is considered rude.
According to Buddhist culture, monks cannot touch women, so be sure to give them space when passing by.
Ask permission (even if in a non-verbal manner) before taking pictures of people. Many people are happy to be the subject of photographs, but it is always polite to ask and this also provides the opportunity for some interaction with the locals.
We don't recommend giving money directly to children as this often keeps them out of school and in vulnerable situations.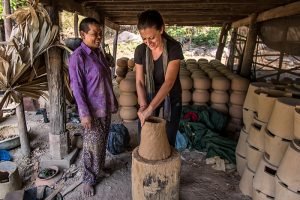 WIN: Thank you so much for taking the time to tell us more about cycling with you. We are really looking forward to exploring Cambodia by bike with you!
Grasshopper: We are very much looking forward to hosting you on your upcoming adventure! I'm sure you're going to have an incredible trip and we're glad that Grasshopper can be a part of it.
As Kelly mentioned, Grasshopper Adventures offers a variety of tours for all riding abilities. Head over to their website and see which one is best for you!
*All photos are courtesy of Grasshopper Adventures