This past summer I was with my book (wine) club and the topic of Africa came up. I don't recall the exact line of questioning, but I was asked to explain what about Africa makes me love it so much; what keeps pulling me back. That question is both easy and difficult to answer. It's easy to explain how wonderful the people are, how beautiful the landscape is and how exciting and humbling it is to see wildlife in its natural habitat. It's impossible to explain that feeling that penetrates you, down to your soul, that you leave Africa with and keep forever.
For one of the ladies there, the answer I gave was good enough. She was intrigued. She emailed me the next day asking more questions and a little over two months later, she was on a three week adventure through Africa with her Mom.
I have yet to find the words that best describe how special being in the bush is, but I'll try. It's the beauty of seeing the sun rise and set each day and taking a moment to enjoy it. It's being in the presence of some of the most magnificent animals on earth and experiencing them in their natural habitat; where they should be. It's the rush of racing in your game vehicle to see that one animal you have been waiting to see. It's seeing the sky turn, in an instant from welcoming to menacing, and deciding to wait it out in your vehicle instead of rushing back to camp. It's having pre-dinner cocktails with other travelers from around the world and having at least one thing in common to talk about: "What did you see today?" It's sundowners: pulling over in a beautiful spot for the sole purpose of watching the sun set, with cocktail in hand. For some camps, it's absolute luxury in the rawest of places. It's the people and their genuine kindness and the culture rooted in family and tradition.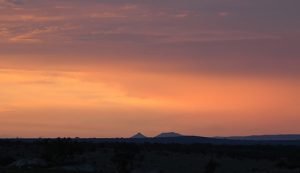 In the previous post, we chatted with Extraordinary Journeys about how to plan a safari. In this post, Helen, Camp Manager at Nomad's Lamai Serengeti, is going to tell us what to expect when we get there.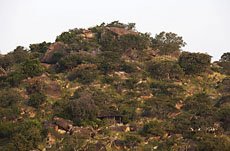 Photo Courtesy of Lamai Serengeti
WIN: How long have you been working as the Camp Manager at Lamai Serengeti and how did you get into it?
Lamai Serengeti: We've been here for almost 18 months now. My husband and I came to relief manage for 2 weeks and loved it so much we never left. Clyde worked in a safari lodge before we met and twisted my arm to move to the wild 9 years ago. In my former life I used to be a dancer and Ballet Teacher … so this is a completely different!
WIN: What does a typical day on safari look like?
Lamai Serengeti: Guests usually wake around 05h30 and head out for a game drive by 06h00 – 06h30 taking a picnic breakfast with them (early mornings are typically good for animal sightings). By around 13h00 (1:00 p.m.)tummies are rumbling again and it's back to camp for a buffet lunch (Alternatively guests can take picnic lunches and spend the whole day in the Bush). Early afternoons can be spent at the pool, having a nap, reading a book or just soaking up the view. After some afternoon tea (or a gin and tonic), it's time for another game drive at around 16h30 4:30 p.m.). A sundowner out in the bush is a favourite end to the day before retreating back to camp for a hot shower, drinks by the fire and then dinner. Most guests tend to be ready for bed by about 22h00, although there's sometimes a party vibe, depending on who's staying with us.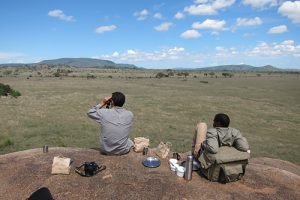 WIN: What kind of food is available?
Lamai Serengeti: Anything from typical cereals and egg and bacon for breakfast, to light salad lunches with samoosas, kebabs, wraps and freshly baked breads. Dinners are 3-courses – stuffed chicken breasts, beef fillet or traditional swahili food. Of course, if you let us know we can cater for special diets for folks who are vegan, lactose intolerant, etc.
WIN: Are there safari/game drive rules and etiquette? What are they?
Lamai Serengeti: It's best to be quiet in the vehicle, particularly if you're close to animals. Smoking and talking on your cell phone would be considered inappropriate. If you're sharing a vehicle with other guests, it's always good to ask if anyone particularly needs to sit close to the front (perhaps they're hard of hearing and need to be close to the Guide, or aren't very mobile) The Guide has rules too, like not venturing off-road, so you shouldn't ask him to do that. He also has etiquette guidelines towards other vehicles when sharing a sighting so that everyone gets to have a good view.
WIN: Many people leave an African safari with a feeling of pure awe and amazement that is often described as…"indescribable". It's a feeling that is often chalked up to "African footprints on the heart". Do you have thoughts on what this feeling is?
Lamai Serengeti: You're absolutely right, this is a common feeling. It's something about how Africa touches your soul. Maybe it's a reminder of how things once were; when humans lived within their environment instead of trying to control it.
When it rains, you shelter; when it's dark, you sleep – no trying to go, go, go 24 hours a day – like so many of us do today.
WIN: What animals are most commonly seen?
Lamai Serengeti: Goodness that's hard to answer because there are so many! During the months when the wildebeest migration is in the area (June-October) the most commonly seen animals would be wildebeest and zebra (in the hundreds of thousands) Throughout the rest of the year we have an abundance of 'plains game' antelope, zebra, buffalo as well as crocodile, hippo and we're lucky to have a large pride of 20+ lion which have become known as the 'Lamai Pride' We are also lucky to often see leopard and cheetah.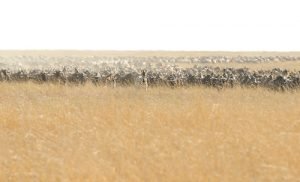 WIN: What is your favorite animal to see in the bush and why?
Lamai Serengeti: I think I'll say Hippo because we don't ever see them in and around camp (we're not close to the river) and I just love their cute, fat bodies with short stubby legs. I know they're not really cute by the way …. Never get between a hippo and the river or you're history!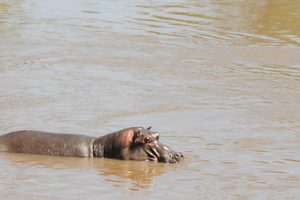 WIN: I remember getting ready for my first safari. It had been planned for the better part of a year and it wasn't until about a month out that it dawned on me that I might see a "kill" and I panicked a bit. I have been two more times since that trip and have yet to see a kill. How common is it to see a kill and how do you prepare your guests for it?
Lamai Serengeti: You'd be incredibly lucky to witness a kill. Although it can be a bit gruesome, it's all part of the circle of life and very educational. You're more likely to see predators eating on a carcass rather than the actual moment of killing and there's sometimes a hunt which is unsuccessful. During migration season you might see a crocodile take down a wildebeest in the river, a cross between drowning and fatal injury. Although most guests are relieved to see the wildebeest escape the clutches of a crocodile jaw, we must always remember everyone needs to eat. We don't bring this up with guests when they arrive, we would not like to raise expectations – and our Guides are fantastic at explaining the behaviour if they are lucky enough to experience it with their guests.
WIN:How close will we be to the animals?
Lamai Serengeti: Hopefully very close! But seriously, it depends on the animal. Snoozing lion for example, if approached slowly and quietly won't mind if you get as close as 5 metres. Plains game, like zebra are far more skittish, you're more likely to see them standing still at 10-15 metres away.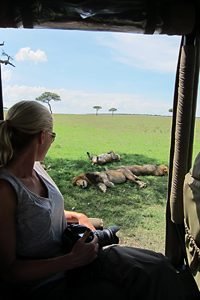 WIN: How safe will I be? Is there anything I should look out for? Anything poisonous?
Lamai Serengeti: In the vehicles you are safe if you listen to your Guide. In camp you are safe as long as you do as instructed when you arrive. Walking alone within the camp in daylight is fine as long as you keep your eyes peeled and stay on the pathways. In darkness an askari (guard) will always walk with you. In case of animal encounters, they know how to react and buffalo are common in our camp at night. There are very dangerous snakes, like the Black Mamba, but seeing them is uncommon. They don't like us as much as we don't like them!
WIN:How many people are in the vehicle during a game drive?
Lamai Serengeti: This depends on how you book your safari – For a relatively small additional cost you can book a private vehicle which can be 1-7 people together with your Guide. Great for family groups or couples who want flexibility. Otherwise you can book what we call a 'Game Package' and this means you'll share the vehicle with other guests (usually up to 6 people) I like to recommend a private vehicle if you have specific ideas about what animals or birds you'd like to try to pursue or about how you'd like to structure your day. Imagine you desperately want to search for the elusive Rhino and your vehicle mates only want to watch Lilac-Breasted Rollers and other beautiful birds!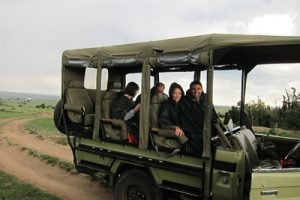 WIN: What are some other activities available at the lodges?
Lamai Serengeti: Walking is a favourite alternative to game drives. You can walk for any duration, perhaps a short 1 hour stroll before a sundowner in the late afternoon or a good 3-4 hour hike in the early morning when it's not yet too hot. Your Guide will accompany you along with a National Park Ranger and our Scout who both must carry rifles to keep you protected in case of an animal incident. We have a pool in each of our 3 locations at Lamai, the perfect way to cool off in the heat of the day, plus a shop for some retail therapy! We can also arrange Hot Air Balloon trips, at sunrise, which is A beautiful way to experience the Serengeti.
WIN:What are the top five things I should have with me on safari?
Lamai Serengeti: A camera, binoculars, sunscreen, a hat, a warm jacket (temperatures can be cold early morning and hot by 10am!)
WIN: For the active people, is it possible to exercise while on safari? Are there gyms at some of the lodges? Can you go for a run?
Lamai Serengeti: There's no gym here at Lamai Serengeti (but there are in some luxury lodges) We have various tracks and pathways, which if you really wanted to, you could run. We have to insist you run with an askari (guard) to make sure you stay safe …. We wouldn't want you to be mistaken for a running antelope! Some airstrips allow running there, with a car driving alongside you.
WIN: Is wifi available?
Lamai Serengeti: Yes, we have wi-fi in the main lounge areas at Lamai Serengeti and in Mkombe's House… Always good for checking in with the dog-sitter and making your friends green with envy when you post photos of your day!
WIN:What is your favorite time of year in the bush and why?
Lamai Serengeti: Here in the northern Serengeti I enjoy October/November and January/February. Fewer guests visit at those times of year, so there are fewer cars out and about and you feel like you're really alone in the wild. You might get some rain November – March, but I personally think that to experience an African thunderstorm adds even more to your safari – plus when the landscape turns lush green it's incredibly beautiful. Wildlife documentaries which inspired people to travel here only duration the migration season have a lot to answer for!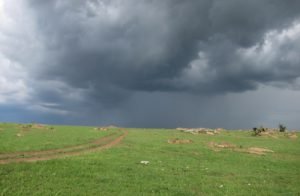 Helen, thank you so much for taking the time to chat with us. We look forward to seeing you soon!
As always, I'd love to hear your questions and comments. Have you been on safari? Are you ready to plan yours?