This week. THIS week, we leave for the first phase of our Round the World journey. As I finally have a moment to catch my breath and look over the itinerary created, all I can think is wow. WOW. It is an itinerary that spans three continents, eight countries and both summer and winter, all within five weeks. And this is just the first of three phases of our Round the World journey.
There have been some changes since I first posted about this trip, but the biggest news is that I was able to rope in a friend and fellow travel loving, adventure seeking, triathlete, Marisa, to join me in Southeast Asia.
The planning has been intensive and some of the details have only recently been finalized. We had to get creative with some logistics as infrastructure isn't great in many of the countries we are visiting. But in the end, we have created an itinerary with the perfect mix of luxury, adventure and culture. It's perfect and I am ecstatic to share it with you.
In addition to fantastic experiences, you can expect to see coverage of premium flight cabins and luxe hotels.
So, here it is. Round the World Phase I:
Stop 1: London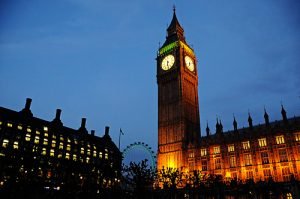 Spending a couple of days in London is always a great way to break up the flight from San Diego to Africa. It takes two long flights to get to that side of the world from San Diego. The flight to London is just under eleven hours and the flight from London to Nairobi is just under nine hours. So, although doable in back to back flights, if you have the time, breaking it up is a great way to adjust to the time change and to add a fun stop. Eddie has taken charge of planning London, but what I am looking forward to most is seeing London dazzle, all dressed up in holiday lights. And, stopping by a Christmas Market or two. Or five.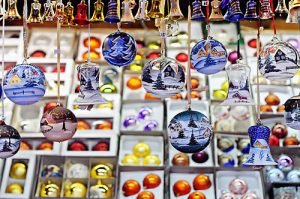 Stop 2: Africa
This is where we leave winter for summer. For the Africa section of this trip, we got to work with the stellar safari experts, Extraordinary Journeys. We typically use tour operators to help with travels to Africa (and highly recommend doing this) and, I can easily say that Extraordinary Journeys has been the best we have worked with. Not only for their knowledge, but for their amazing customer service. They booked our lodging, arranged our internal flights, escorts through the airports, airport transfers and a guide to take us around Nairobi.
They also found an amazing hotel for us in Nairobi that I am really looking forward to. It is called OneFortyEight and it is brand new! They opened their doors less than two weeks ago and the images of the property are just stunning.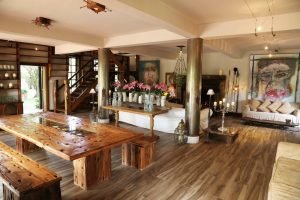 Photo courtesy of OneFortyEight Hotel
They are set right outside of the city and adjacent to the Giraffe Sanctuary. We will be visiting the Giraffe Sanctuary and another incredibly special place. I am going to keep this one secret but, it is a place that has been near and dear to my heart for a very long time and I feel so privileged to be able to visit.
After a couple of days in Nairobi, we head to Pemba Island, which is part of the Zanzibar Archipelago off the coast of Tanzania.
Then, after a few days of relaxing at a dreamy little secluded spot on the Indian Ocean, we make our way to our safari.
We are returning to a place that fills my soul with light and life: the Northern Serengeti. We will be staying at the beautiful Lamai Serengeti, tucked perfectly into a Kopje, overlooking the rolling grassland of the northern Serengeti.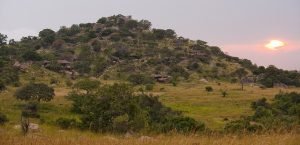 Photo Courtesy of Nomad Tanzania
Here, we will enjoy morning and evening game drives with some relaxation in between. I cannot wait for the humbling feeling while in the presence of a majestic lion, watching a massive elephant move gracefully through the grass, sundowners in the bush and the evening orchestra of hyenas calling, lions roaring and the hum of wildebeest.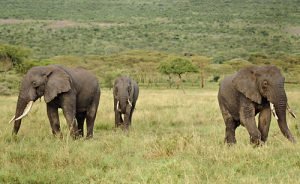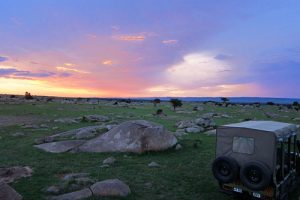 We will have a few days of safari and then we depart (with me in tears) for Maputo, Mozambique. That is where the Round the World ticket begins. From there, we fly to Singapore with a quick stopover in Doha. The aviation nerd in me is hoping for enough time during our layover to explore the 10,000 square meter Al Mourjan lounge in Doha's brand new airport, complete with a pond, two restaurants and a game room.
Stop 3: Singapore
After a couple of long flights, we arrive in Singapore in the afternoon. I've left the planning to Eddie, but this is where we do some eating. Singapore is known to have some great food options, with hawker stalls being a major draw. Of course we will do more than eat, but I'm pretty excited to try out the different foods. The other thing I am excited about is that we get to check out another new hotel. Designed by Philipe Starck, it looks like an interesting blend of contemporary luxury with a touch of quirkiness.
The one thing that I am not looking forward to with this trip is parting ways with my favorite person to travel with. My favorite person to be with. I know the next couple of weeks will be fantastic, but it will be hard to say goodbye to Eddie.
Stop 4: Vietnam
As Eddie makes his way home, I'll make my way to Hanoi. I'll arrive in the early evening and Marisa will arrive late the same night. We'll have the next day to explore Hanoi before heading to Halong Bay to overnight on a Junk Boat. This "Junk Boat" is sheer luxury. We'll be sailing with Heritage-Line's "Violet".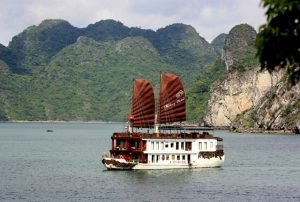 Photo courtesy of Heritage-Line
As far as junk boats go, this one is small, intimate and one of the best. We will sail through Halong Bay, enjoy some amazing food, top notch service and a few excursions before returning to Hanoi for our flight to …
Stop 5: Laos
We will spend the night in Luang Prabang and wake early the next morning to begin three days of trekking through Laos. We'll explore villages, lunch at waterfalls and just be bodies in motion. After trekking we will spend a couple of more nights in charming Luang Prabang.
Stop 6: Thailand
On our way to the beaches, we are going to have an extended, overnight layover in Bangkok. The last time Eddie and I visited Thailand, we had to skip Bangkok due to anti-government protests that disrupted the country's capital, so I am looking forward to spending a little bit of time there!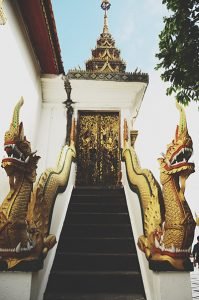 Then, we will spend four days enjoying Thailand's beaches, which are some of the most beautiful in the world. We will be staying at a lovely boutique resort right on the beach. I'm keeping this part secret, so you'll just have to follow along to see where it is.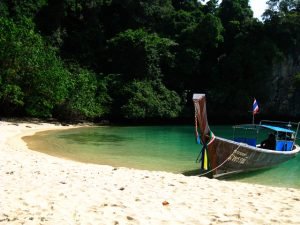 Stop 7: Cambodia
Our final stop is Cambodia. We planned all of Southeast Asia around this one stop as we will be doing a cycling tour here! We will spend four days exploring Cambodia by bike with Grasshopper Adventures. We will begin our first day by watching the sunrise over Angkor Wat. Then, we will spend the rest of the afternoon exploring the temples in the massive temple complex by bike before departing the next day for three days of cycling through Cambodia's countryside, complete with a ride on a bamboo train and a visit to floating villages.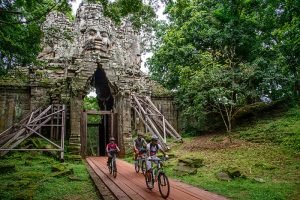 Photo courtesy of Grasshopper Adventures
Another exciting aspect is that I will be taking over Coeur Sports Facebook for some live updates along the way, so be sure to follow Coeur on Facebook.
After our cycling tour, we'll spend our final night in Ho Chi Minh City before departing the next morning for home. We won't have much time there, so Marisa is suggesting we just stay up all night and sleep when we get on the plane. I'm a big fan of that idea.
That's the itinerary for Phase I! The photographer in me is beaming with the thought of the images I'll have the opportunity to capture, the adventure seeker in me is pulsating with the amount of off the beaten path exploration included. The inquisitive me is salivating at the thought of all of the culture and life I'll be able to experience and soak up.
Travel undeniably changes you and I can't wait to discover new parts of myself through discovering new parts of the world.
I hope you join me for this wild ride!
The best ways to stay up to date are via When Is Now's Instagram and Facebook. There will be reviews and other write-ups once we return.
As always, I'd love to know your questions and/or input on any of these areas!