After a delicious breakfast at Mfuwe Lodge, we drove for several hours to reach our camp, which was the equivalent of a game drive. We saw a lot of animals and watched and sat in awe of the changing landscape as we moved closer to our next camp.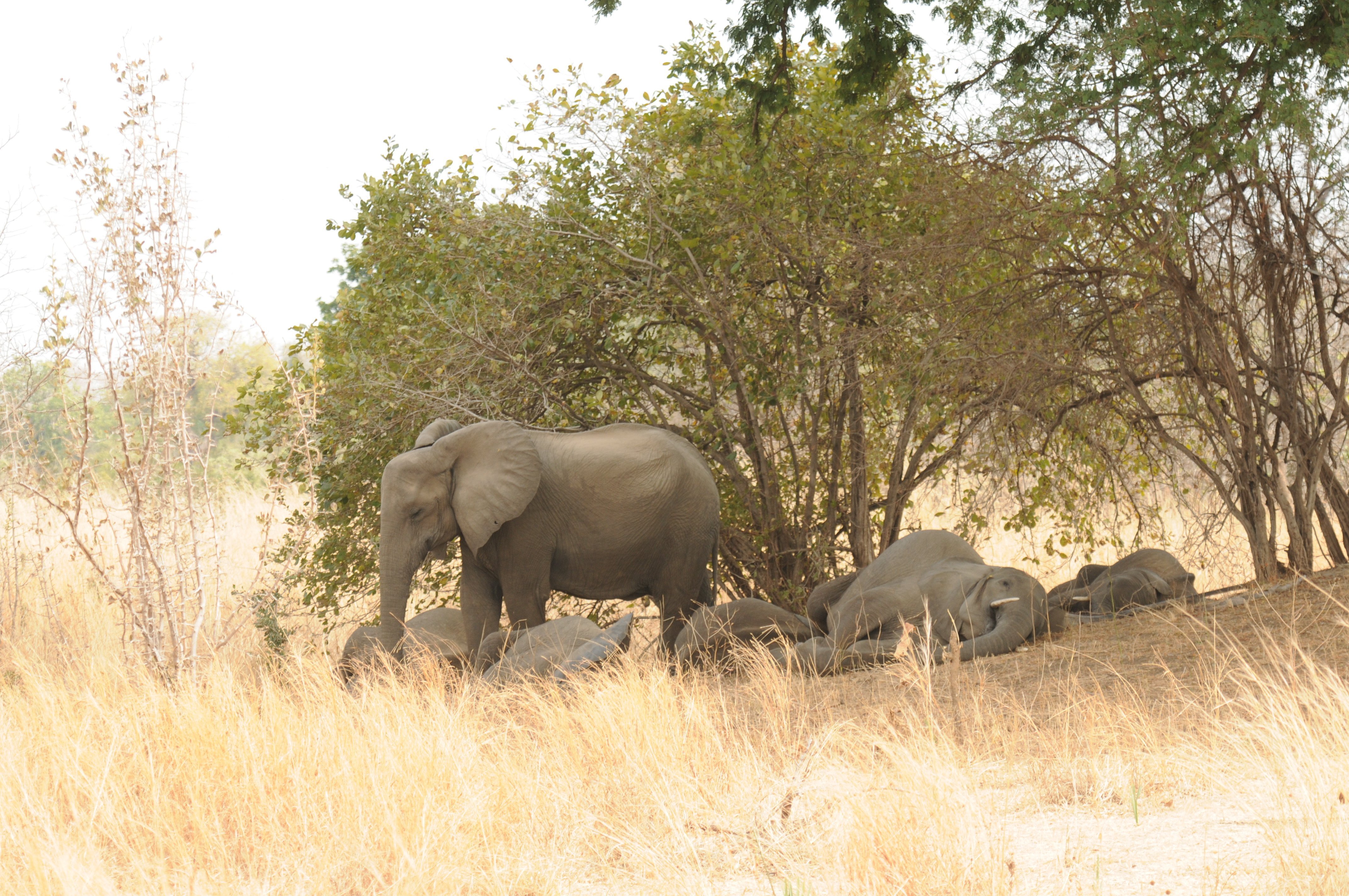 We arrived at our camp, Kapamba, at around 2:00 and I immediately realized that Kapamba must be heaven on earth.
We were greeted by Ian, the camp manager, and a few others on his team. our bags were sorted to each of our rooms and we went straight to lunch.
Hidden deep in the bush and right on the Kapamba River, this camp is the ultimate in intimacy and understated luxury.  The main area, where all of the dining and lounging takes place, is open air and looks over the very shallow Kapamba river.  The great thing about the Kapamba river is that it is too shallow for crocodiles and hippos. You'll realize why this is "great" as you read on.
All of the Bush Camps are quite small. Kapamba only has four rooms, so the Magnificent Seven took over for the two nights we were there. The rooms are stunning. They are all aligned on the river and you have a view of the river from wherever you are and whatever you are doing. The side facing the river has no wall; Just an iron gate that you close at night to keep the animals out. The tub is massive. It is the size of a six person Jacuzzi and so large that someone from the camp has to come fill it for you.
After lunch, we had a little while to rest up and then we went out on our evening game drive. We had a lovely sundowner and some great sightings.
The next morning, Mishek took us on a walking safari, which was great! A walking safari gives you a whole new perspective of the landscape around you. You are out of a vehicle and close to the ground. We saw porcupine quills, various footprints, termite mounds, interesting plants and elephants. What an experience to see an elephant as you are on foot! As our walking safari ended, we were surprised with an incredible bush breakfast right on the South Luangwa River. The food was delicious, the company was perfect and the sound of the hippos in the river behind us topped it all off.
As we were driving back to camp, we noticed a family of elephants taking a mud bath in the river. We stopped and watched them for quite a while. These are my favorite safari experiences: taking a moment to just "be" with the animals. To watch them, to listen to them and be part of their world for a moment. To me, this is much more valuable than rushing from sighting to sighting just so you can say you have seen the "big five".
This family was particularly pleasant to watch. They were taking a mud bath in the Kapamba and quite playful. We saw a very young baby, who hadn't learned how to use her trunk, drink from the river by mouth. As some would bath, others would rest their massive heads on the edge of the river bank. Once they noticed us, they paraded out of the river, one-by-one, several of them giving us a little mock charge as they walked by. Before disappearing into the bush, one of the them put on quite a show as she pulled up mounds of red dirt with her tusk and flipped it onto her back. A little ele sunblock.
We returned to the lodge and made our way to the river. We grabbed a bottle of wine, some beers and some chairs and relaxed, laughed and watched the kids race all while sitting in that shallow Kapamba river. It was fantastic.
Before long, it was time to shower (with a view of eles in the river) and head out for our last evening game drive.
We drove out to the same spot where we saw the elephants taking their mud bath earlier in the day. It was funny to see the huge hole they left from rolling around. I wasn't paying much attention as the vehicle came to a stop, but when I looked up I quickly realized two things:
1. We weren't going to find animals
2. This was going to be a spectacular and unforgettable sundowner
There was a row of chairs set up for us in the river and facing towards the sunset. There were lanterns around the chairs and a small table set up with snacks and cocktails. It was stunning. We kicked off our shoes, made our way into the river and were greeted by Ian and staff as if we had just walked into a five star restaurant. We popped open one of our last bottles of Veuve and toasted to a spectacular trip. It was such a lovely evening and I will never forget it.
We did see a few animals on our drive back to camp. The one that amazed me the most? A chameleon! I do love a chameleon, but the fact that Mishek spotted it in the dark and hanging from a tree was the most amazing thing about it. When we got back to camp, we had a lovely dinner and hit the sack, so we could be up early for our long journey back to Livingstone.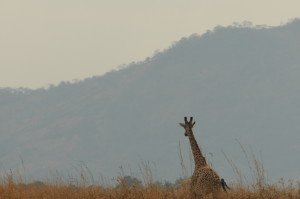 I truly loved Mfuwe Lodge, Kapamba and the safari experience in South Luangwa. I would return in a heartbeat and hope to someday return to Kapamba and some of the other Bushcamps with the Mr..
If you are an experienced safarier (Yes, it's a word. It's in the Urban Dictionary), you will probably want to limit your time at Mfuwe Lodge and move on to the Bush Camps. If this is your first safari, Mfuwe Lodge is a great place to start before moving into the Bushcamps. Either way, you will feel welcomed and cared for by the amazing staff, well fed with delicious food and surrounded by beautiful sights and sounds of the African bush. And, if you see Mishek, tell him I say "hi".