I could sum up my thoughts on the Grand Hotel Kronenhof in five words: she is the proverbial Unicorn. You know, something magical; something so perfect it doesn't even seem like it's real? And, I haven't been able to stop talking about her since visiting.
Pontresina
The Grand Hotel Kronenhof is situated in the charming town of Pontresina, which is located in a valley near the Bernina Mountain Range. We had to pass through a much busier St. Moritz to get there and were pleasantly surprised to arrive in a smaller, quieter and equally beautiful Pontresina. And, although small, Pontresina is quite cosmopolitan with a variety of shops and some very worthy restaurants.

The Grand Dame
We pulled into the deceivingly small front entrance driveway and were taken to reception where we were warmly (and quickly) checked in. As we started our tour of the property, we were greeted and welcomed by the hotel manager.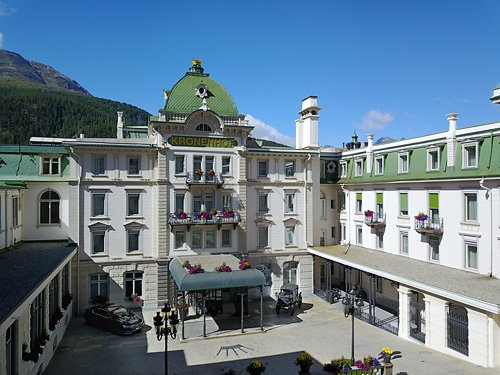 Pontresina is known for its Bell Époque hotels and Grand Hotel Kronenhof is undoubtedly one of the best. Once we settled into our room, we went out to explore more of the property. On the main floor we found a billiards room, cards room and cigar room, each one designed true to the era and with the wood floors creaking below our feet. As my friend Megan said, "you can just feel the history".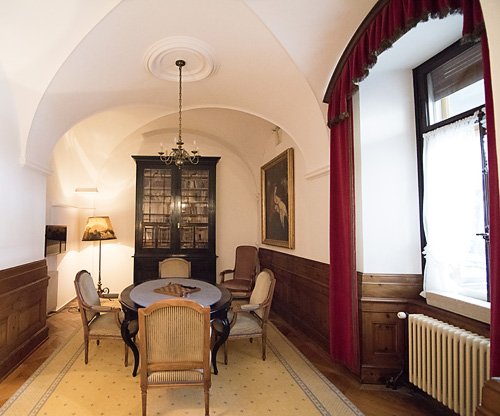 Along with these small rooms, there were multiple, larger ballrooms and entertainment rooms, all opulent and all with a commanding view of the towering mountains that surrounded us.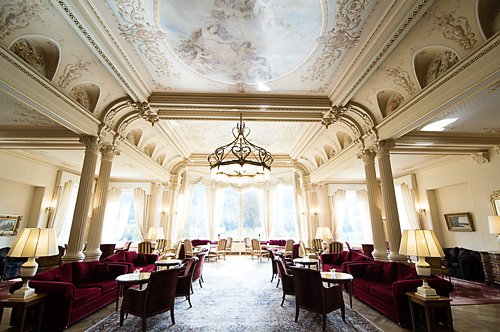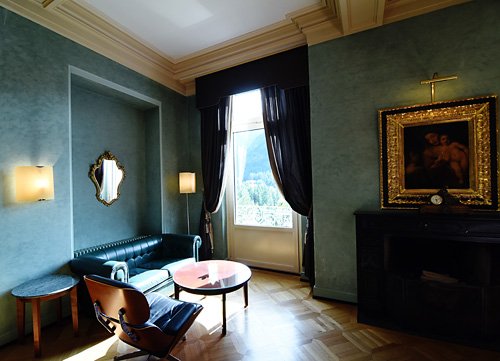 On another floor was a historic and beautifully maintained bowling alley.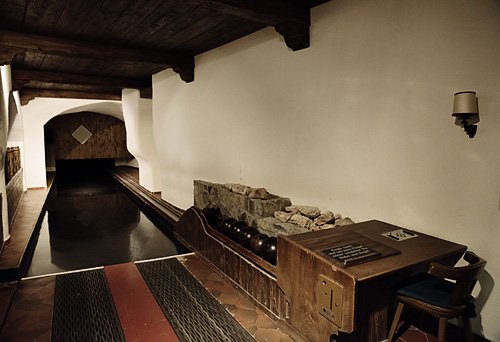 And, my favorite room: the wine cellar, which I'll gush over more below.
Following our tour, we were shown to our room which was located in the newest of the three wings. Our room had a long entry hallway that included unobtrusive built in closets the entire way down.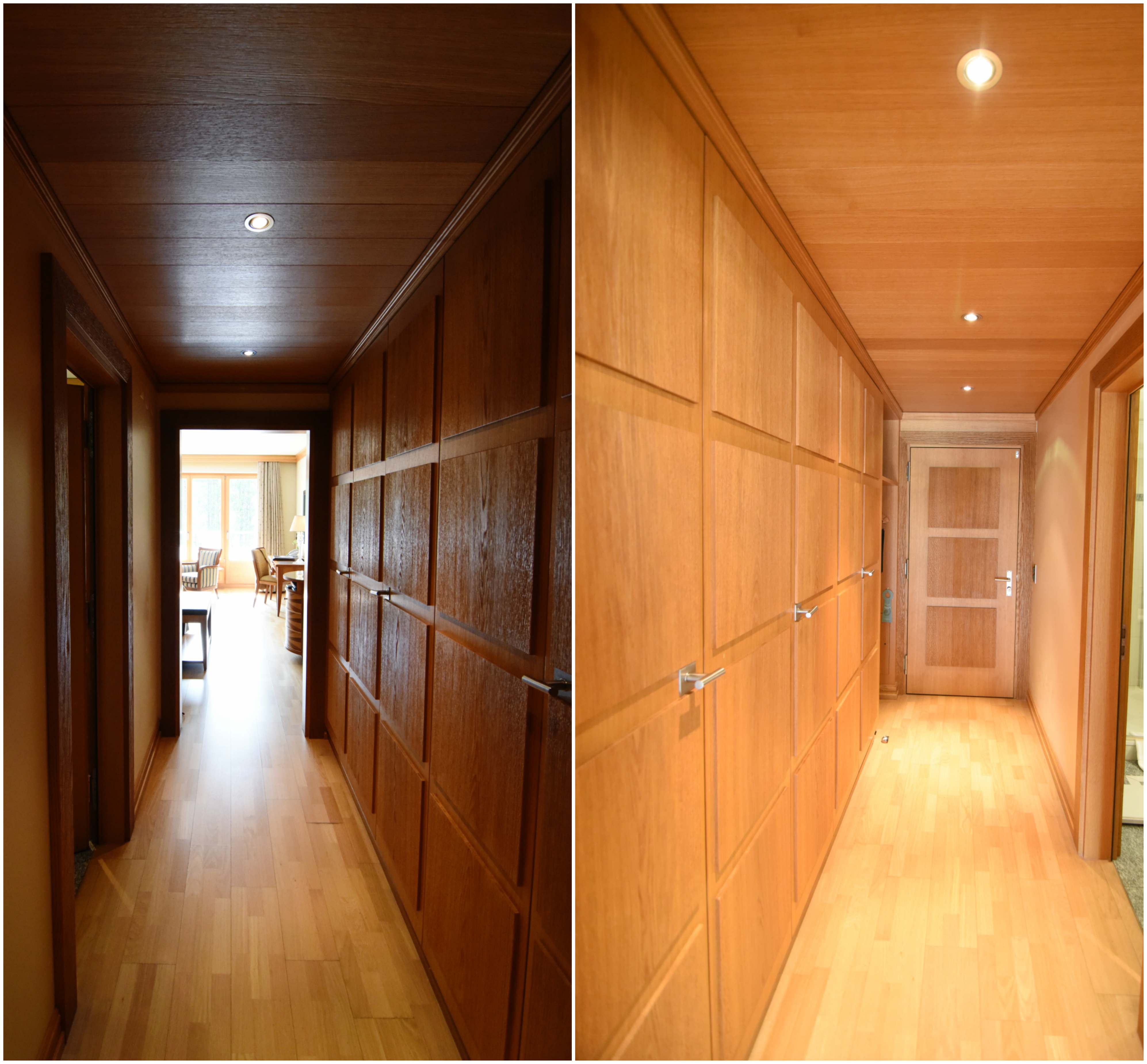 To the left of the hallway was a large, elegant marble bathroom with a separate shower and whirlpool soaking tub. The long hallway opened into a large room with a bed and a spacious sitting area and an outside deck that overlooked the river flowing through giant pine trees.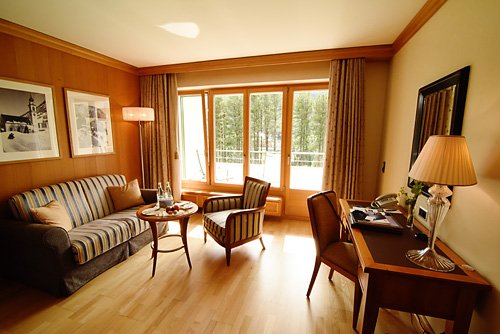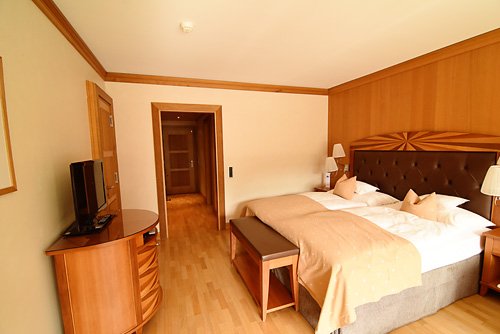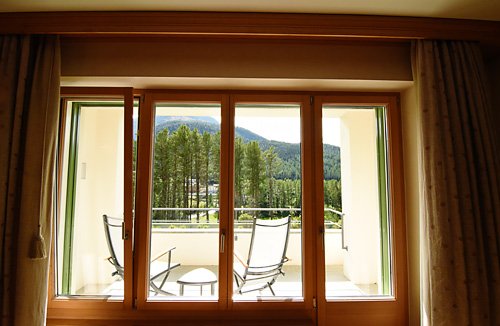 The entire design was clean, simple and modern with wooden touches that added warmth.
Spa
The Kronenhof spa is hands down the best spa I have ever been to. And at 21,000 square feet, it's enough to keep you pleasantly occupied for hours on end. As you enter the main area of the spa, the large swimming pool that leads your eyes to the surrounding Alps outside, commands your attention.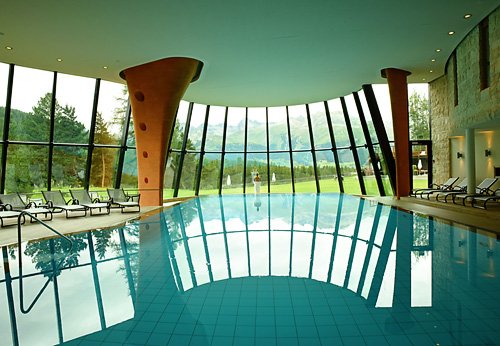 In other areas of this floor you will find a water in motion pool, a steam bath, a salt grotto, saunas, a solarium (or the fitness room) and a relaxation room, complete with waterbeds and a fireplace.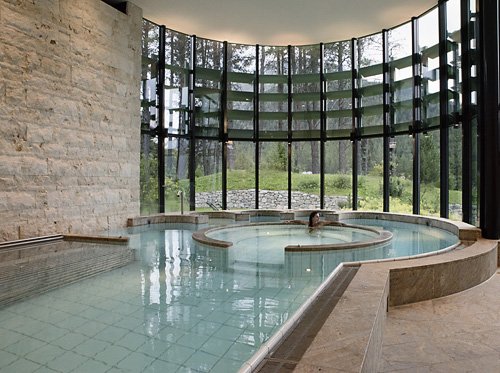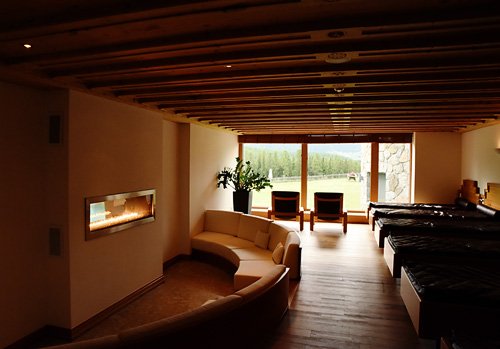 All of this is at no additional charge if you are a hotel guest. Non-hotel guests can enjoy the facilities for a daily fee. Once a month they have night spa where the spa is open from 7pm to midnight with a few extra treats. On the floor above the main area is where all the treatment rooms are located. I received a fantastic massage and Megan had a facial.
Dining
The Kronenhof has multiple onsite dining options and can arrange unique dining experiences for you. Unfortunatley, we were too late (we couldn't leave the spa) to enjoy the award-winning restaurant for dinner, but had the phenomenal breakfast, which included an expansive buffet, champagne and hot items made upon request.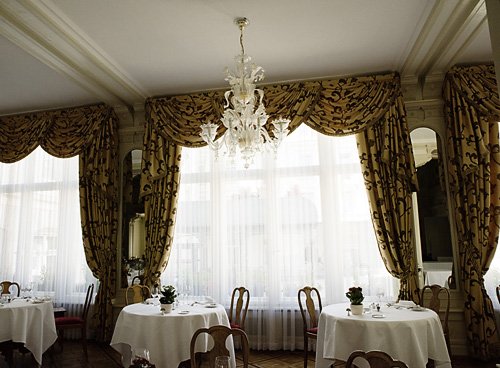 The bar, also located on the main floor, is perfect for a nightcap and is regarded as one of the best Gin Bars in the Alps.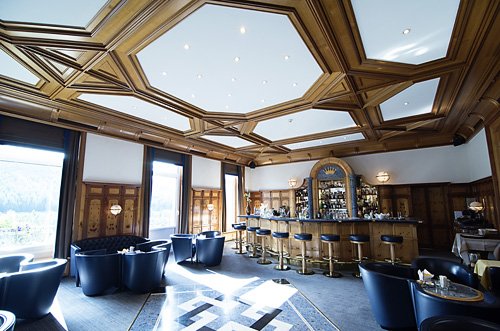 Wine cellar
There's part of me, a very small part of me, that wants to keep this next part a secret, but that wouldn't be very nice. On our last morning, the manager suggested that we take a tour down to the wine cellar. I figured they had a really nice wine selection that would be fun to take a look at. I had no idea what was in store for us. The Veltliner wine cellar was established in 1867 and within it are the original wine barrels and other original memorabilia. It is absolutely gorgeous and is also credited for keeping the hotel afloat during the first and second world wars.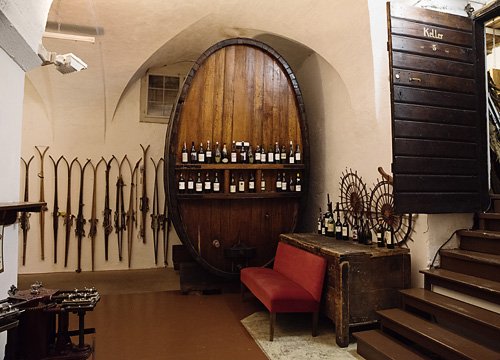 The original wine barrels are in the first room upon entering and in the second room is the original lounge area with a bar and seating area lit by well over twenty chandeliers.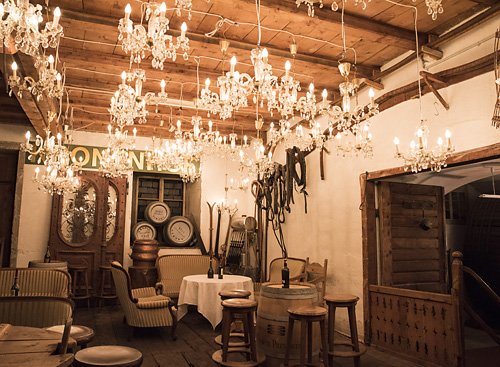 Summer Fun
During the warmer months, Pontresina offers beautiful hiking and the concierge was fantastic with helping us find the perfect hike for us.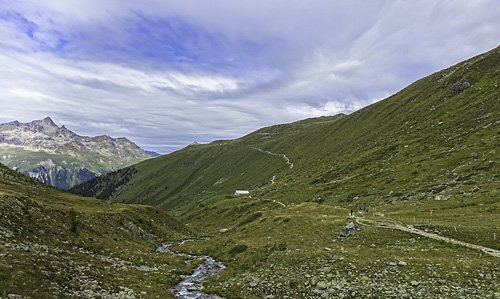 We walked to the base of our hike and when we finished, we called the hotel and someone was waiting for us by the time we made it to the bottom via the funicular. In addition to hiking during the warmer seasons, the hotel offers e-bikes for guests to use to explore Pontresina and St. Moritz. We took them to a nearby lake where we enjoyed music, homemade blueberry pie and a glass of prosecco, all the while pinching ourselves and asking how this was even real life.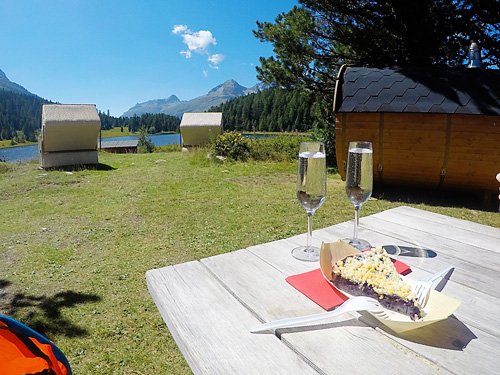 Kids
I don't travel with kids (I don't have any other than my English bulldog), so I typically don't cover that aspect of traveling. However, Grand Hotel Kronenhof's kid-friendliness is worth mentioning. They offer numerous activities, a kid's club that I challenge any adult to try to stay out of, and a darling kids formal dining room that is adjacent to the main dining room.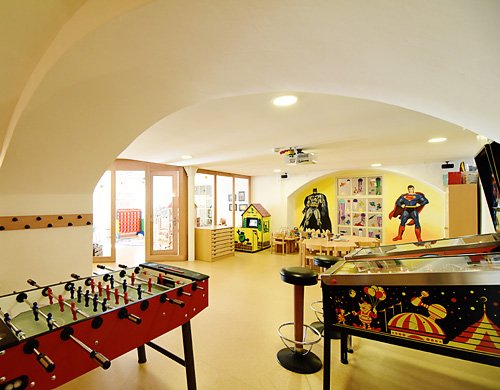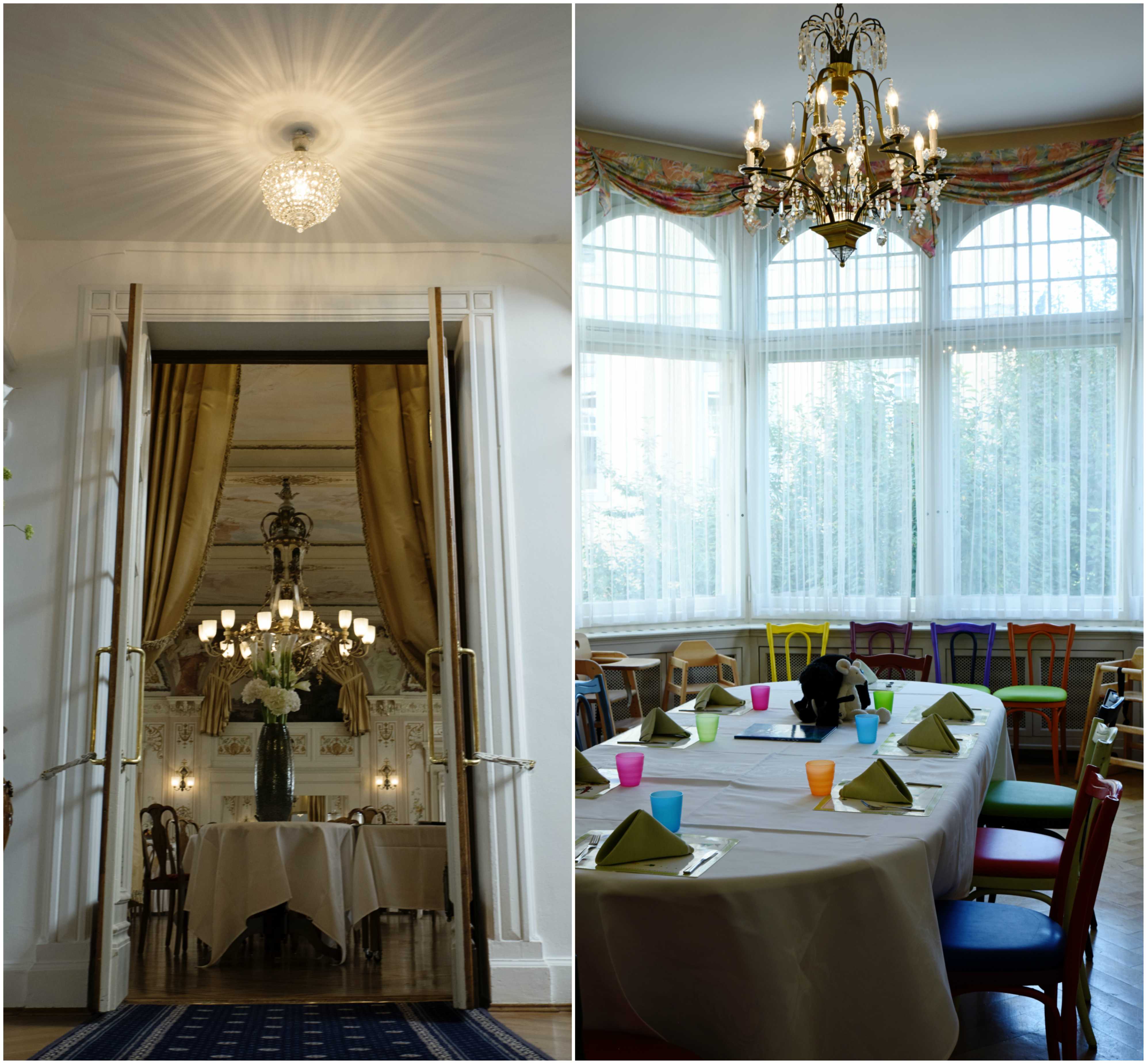 While in the spa, I met a couple who travel to Europe every year and, for the past seven years, they have ended their vacation at the Grand Hotel Kronenhof. Hearing that didn't surprise me in the least bit. It's a special place. So special that, of all the places that my husband couldn't join me on this Round the World trip, this is the place I want to return to with him.
You can find more information on the Grand Hotel Kronenhof here.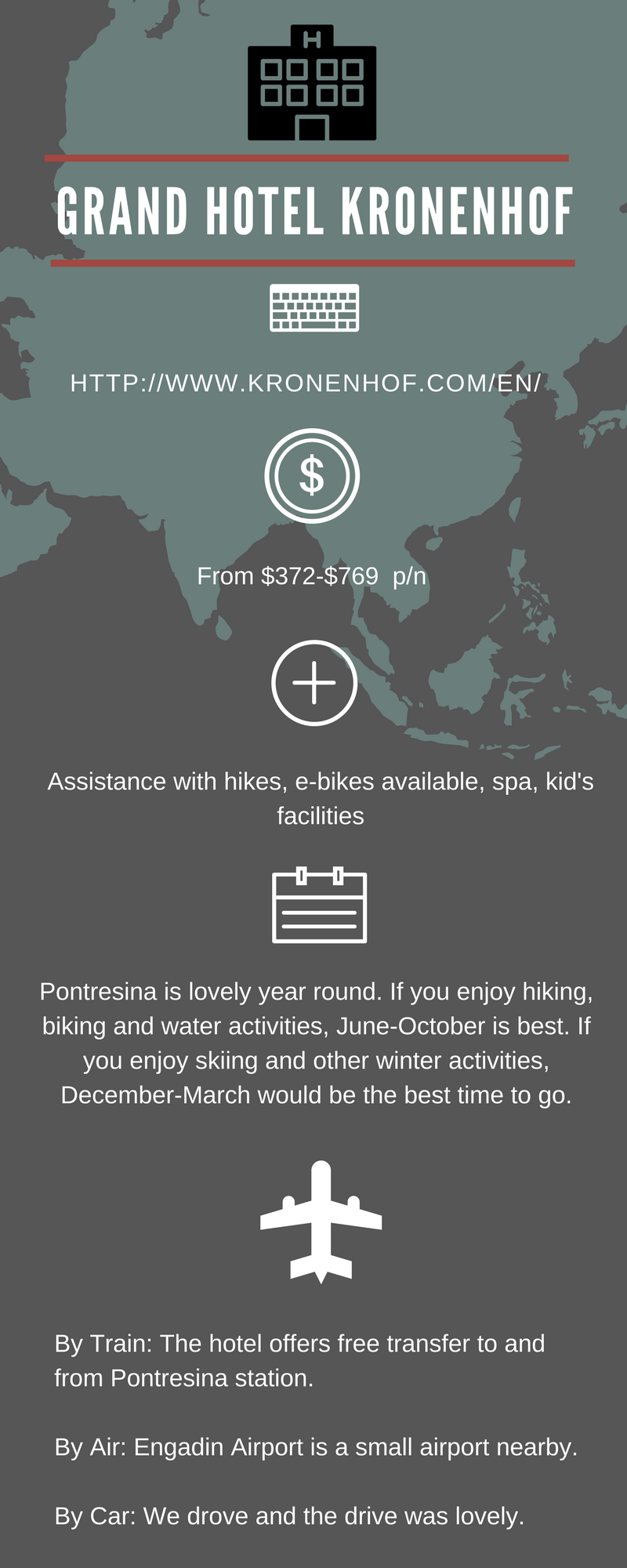 Take some time here. We thoroughly enjoyed our two night stay, but I would recommend four nights minimum.
Walk around and explore the property. There are surprises everywhere.
If you are usually a late diner (like me!), plan to have dinner a little earlier. And, make reservations.
In addition to Grand Hotel Kronenhof's restaurants, check out Gianottois Wine Bar & Grill just down the road.
No matter what time of year you visit, don't forget your swimsuit.